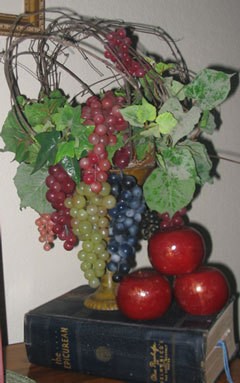 With the lasting popularity of old-world décor, this grape arrangement will add class and color to an end table, dining table, pedestal, or architectural niche. You can use the same concept with different varieties of fruit, or add seasonal flowers or ribbons to change the look of the arrangement.
What You'll Need:
7 medium sized rubber grape bunches in various colors
4 mini rubber grape bunches in various colors
1 bush of grape leaves or ivy
1 small natural grapevine wreath
1 tall container with a weathered patina (do not use glass)
1 small foam brick or cone
floral pins (U-shaped)
sphagnum moss or Spanish moss
floral wire
floral stakes
wire snips
glue gun
Directions:
Trim the foam so that it fits into the container and use hot glue on the edges and underneath to attach it. The foam will bear a lot of weight, so it needs to be secure.
Cover the foam with a light layer of moss, and secure it with floral pins.
Unravel the grapevine wreath and separate it. You'll use only 1/4 or 1/2 of the grapevine. Press the ends of 2-4 lengths of grapevine into the foam, allow the vine to circle widely above the container, and secure the opposite end into the foam. Repeat this three times, alternating the direction of the grapevine to form a criss-cross pattern at the peak.
One at a time, arrange the larger grape bunches and secure them into the foam with floral pins. Let them drape over the sides of the container all the way around. Vary the lengths that drape so that they do not form a straight line at the lowermost grape. To build up the layers, attach floral stakes to the stems of the grapes and secure the stakes into the foam.
Snip the grapevine or ivy bush into pieces at the base that holds the bunch together. Tuck the individual stems into the arrangement and press the wire ends into the foam. Longer pieces can be wound up the natural grapevine.
Attach the mini grape bunches to the natural grapevine with floral wire. The mini bunches should hang freely with the wires hidden between grapes. Tuck in a few more stems of vine for the finishing touch. Turn your arrangement around to assess how it looks from all angles. There should be no front or back to this piece. The overall shape should resemble an inverted pyramid.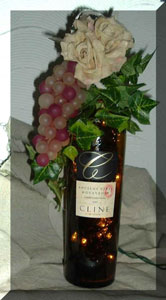 I am making wine bottle lights but I can't get the grapes to stay on the bottle. I used a glue gun but it doesn't work.
Carrie from Ontario
Answers

Julie
Bronze Feedback Medal for All Time! 149 Feedbacks
December 4, 2007
0

found this helpful
Contact cement is very strong and will hold them. Hardware stores have it, or walmart in the hardware section.

December 4, 2007
0

found this helpful
Try this site to find what will work :0)
www.thistothat.com
Maggie in Bloomington, MN

December 5, 2007
0

found this helpful
Could you not wire them to the neck of the bottle using coated wire to match the bottle or the grapes? It looks like you could cover any showing wire with the flowers or even a colored electric tape to blend in.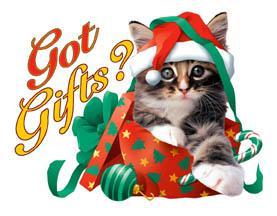 By jfg3001 (Guest Post)
December 6, 2007
0

found this helpful
I made 48 of these last Christmas. I used floral tape to hold the grapes on. I bent the stem of the grapes so it would hook on the bottle top then I wrapped floral tape around the top securing the grapes.
I, also, wrapped the light wire securing it to the top of the bottle with floral tape. Hope this helps. Everyone will love their gift. Your example is just beautiful! Jean

December 11, 2007
0

found this helpful
Hi...these are really, really pretty and would be lovely for two "wine" people I know. Could someone post the directions or a site that has the directions?
Thank you so much...I know this is a busy time of the year.

January 18, 2009
0

found this helpful
Carrie from Ontario
perhaps I can assist you by suggesting tying the grapes onto your bottle with raffia. Can be bought at Walmart or craft stores...........tie each thing separately, then tie another piece of raffia around everything being carefully to work around grapes etc. then tie a beautiful bow and let it droop down.
I'm sending a sample of a birthday present that I made today for a bar light!!..........ludie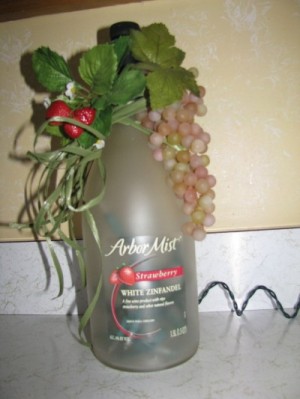 April 21, 2010
0

found this helpful
I have made several of these during the past few years and use floral wire to wrap around the neck of the bottle, attach grapes, etc., then tie several strands of raffia around all and tie a large bow or use a nice colored bow on top of the wire. I group three different colored bottles together for a nice impact.

May 16, 2016
0

found this helpful
I made my grapes out of marbles then paint them hot glue works great
Answer

this Question

I am looking for instructions on how to make grape clusters, without jump rings. I need to find written instructions with pictures.
I don't do well with video tutorials. If anyone could help me I would be greatful.
Answers

poehere
Bronze Post Medal for All Time! 105 Posts
October 28, 2017
0

found this helpful
Here are a few tutorials that might help you out:
This is a simple tutorial that the person gives you step by step images and show you how to do this. www.instructables.com/.../
Here is another written tutorial that you can check out to see if you like this one or not. beadjewelrymaking.com/.../may.html
I'm not sure if this one will work for you or not, but you can take a look because it is a good tutorial. handmadejewelryblog.weebly.com/.../how-to-make-grapes-cluster-earrings
I hope these are the types of tutorial that you're asking for. Good luck and there are many more out there online. I just tried to find the ones with pictures for you to make it easier to follow.

Judy
Gold Post Medal for All Time! 677 Posts
October 28, 2017
0

found this helpful
Your best bet is to go to a craft store line Michaels. You have to buy the supplies anyway. You may be lucky enough to find an employee to help you or they may have a class coming up.
Be sure to bring the photo so they know what you want.
Answer

this Question