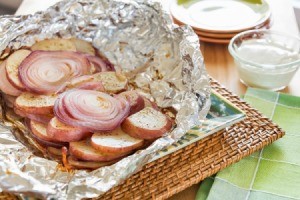 In a large piece of heavy duty aluminum foil, spray every inch of the inside section of the foil with no stick spray.
Slice very thinly:
1 potato per person plus at least 1 more...
1 large (or more) onion
Shred Monterey jack cheese (or your favorite) to cover potatoes and onion. Thinly slice 1/2 stick butter (I use half butter, half olive oil), salt and pepper to taste. Toss everything until well mixed. Fold foil, making sure the seal is tight on top, and roll ends in. I never make the packet more than an inch tall. Make several small slits on top so steam can escape. Grill over coals, a bit off set, at least an hour for 4 potatoes, turning every 20 minutes or so. Do NOT turn packet over, just swivel this packet so all four edges are over coals. This is so good, like cheesy fried potatoes.
By Margie from Mount Vernon, OH