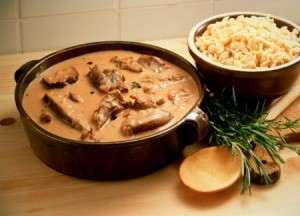 I was wondering if anyone had any ideas or recipes to share that use canned venison. I have been canning it all weekend and would like some yummy recipes to use this winter.
Thanks,
Erica from West Virginia
Answers
By Cougar Davenport (Guest Post)
November 30, 2005
1

found this helpful
Best Answer
About canned venison, I always can it if I am lucky enough to get some. Here is a recipe that I have adapted from my mom's recipe from when I was a little girl. All my kids love it!!
Deer (or elk) meat and rice. Can use any wild game. I even use beef when its cheap
Make a full recipe of rice. I immagine any rice would work but I have always used long grain white rice. Chop about 1/2 (or more) cups of both celery and onion. Saute them in about 2 Tabls. butter. Next add to the veggies, I quart of the canned venison, plus the juices. Let it come to a simmer and season with salt and pepper and at least 1 teaspoon of curry powder. I use more. to this mixture, and simmer. Next I add an additional can of consomme or beef broth. simmer and slightly thicken with cornstarch mixed in water until dissolved. Now add it to the rice, put in a casserole and bake at about 350 for 30 minutes. It is so good. Wish I had some venison right now!!

November 30, 2005
1

found this helpful
Best Answer
This is very easy to do. Take some portabello mushrooms and slice and a onion and dice and fresh garlic and parsley. Saute the onions in butter just a tblp or two and when lightly browned add mushrooms and saute hard add garlic and parsley then mix add to that a port wine or any full body red about 1/2 cup. bring to a simmer then add your venison and return to a simmer.
Season with a little beef base thicken with either a roux or cornstarch and water your choice. You do not want it super thick. Put over egg noodles, mashed potatoes, rice, puff pastry, baked potatoes what ever you like. You can even add fresh or dried thyme to this and add a little sour cream and use it that way.

December 3, 2013
0

found this helpful
Best Answer
I just canned 16 wide mouthed pints of chunks of fresh venison that was shot yesterday. I had my granddaughter paint the bottom and sides of the jars with olive oil which was in a quart jar filled with our own garlic. I filled each jar half way and salted with a tiny bit of sea salt and some dried onion flakes. Filled the jar the rest of the way up and a tiny bit of salt on top and boiled the jar lids, screwed the tops on and placed into my American Pressure Cooker.
In 75 minutes I will have 16 pints of deer meat ready to use this winter. Hoping my hubby or someone gets another deer so we can grind up some ground meat too. Dad got the rest of the deer to make kielbasa.

February 22, 2015
1

found this helpful
Best Answer
I raw can venison in large chunks, stew size and ground. I like canning venison for a few reasons. 1. it's the easiest thing that there is to can. stuff it in a jar, no need to add anything, pressure cook for 90 mins. 2. my freezer space is left open for my produce and made ahead meals and 3. dinner is practically ready when i get home from work.
I use canned ground in everything-tacos, sauces, casseroles.
Stew size chunks I use by crock potting the normal beef stew
veggies with a can of mushroom soup & some beef base, then when I get home I toss in the venison chunks until heated.
Bigger chunks I use for pulled 'beef' and put on rice, in sandwiches, on tatoes.
Read More

Answers