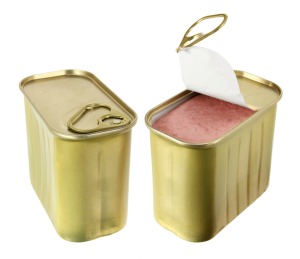 I would appreciate recipes for using canned pork.

Jayhawk from Lawrence, KS

Answers
September 7, 2006
17

found this helpful
I boil macaroni and drain. Add 1 jar of canned pork or venison (drained of the juice), 1 can of cream of mushroom soup. I then season it with Fajita seasoning or salt and pepper basically season with what I have on hand that sounds good. It makes a nice quick meal. I sometime experiment with adding a can of vegetable to make it more healthy.
By Francene (Guest Post)
September 8, 2006
14

found this helpful
Hi Jayhawk, I lived in Lawrence for 12 years. I now live in Washington State. I used to get the canned pork from Penn House. I would BBQ it. Just open the can, rinse off the fat then pour in BBQ sauce and heat. It makes great BBQ sandwiches. I also would mix in a packet of brown gravy and put over mashed potatos. Yummy.
By carla bledsoe (Guest Post)
September 11, 2006
6

found this helpful
mix with brown beans and serve with cornbread.
b-b-q.
serve like hot beef sandwich subbing pork for beef.
serve with mashed potatoes.
cook potatoes, carrots and onions and add pork.
add to stir fried veggies and serve over rice.
good luck and I envy you. its been years since I found any canned pork.
By Amanda (Guest Post)
March 14, 2007
7

found this helpful
-I made this last week, I couldnt find any recipes I liked so I made one... I put 1 bag of small red beans (soaked overnight) and a can of pork and juices into the crock pot. I added water, 1 pouch of lipton beefy onion soup, season salt, minced onions, teaspoon of garlic, and salt. Let crock for 4 hours. Yummy type of pork and beans, the guys ate it all up!!!
-I am going to try this one tonight... I just thought it up. Boil 1 can pork in juices, then drain. Home made gravy. Mashed potatoes. After cooking pork and potatoes separately, mix pork into potatoes. Add butter and gravy. Well see what happens! It does sound quite tasty!
By Lori (Guest Post)
October 23, 2007
3

found this helpful
You can buy excellent canned pork from Grabill Country Meats @ (260)627-3691 or
grabillmeats.com
By Gregory (Guest Post)
January 30, 2008
12

found this helpful
I love Amanda's phrase, "the guys ate it all up!". Reminds me of my Grandma talking. It would be something she would say! Sounds like you got a stock pile of canned pork! Ha ha. Love the question, "where I can buy a can of pork". One avoids buying canned pork! Canned pork is something you end up with or acquire from a food bank! Thanks Amanda, I'm gonna try your way.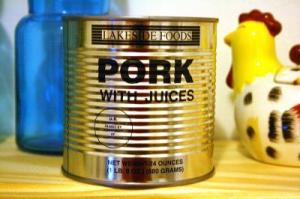 By Cate (Guest Post)
October 14, 2008
11

found this helpful
For 24 or 29oz Canned Pork: Drain(save liquid, might need. Remove as much fat as possible.
1/2 med. onion or 1 sm. onion- diced
1/2 sm. green pepper- diced
Saute onion and gr. pepper for about 5 min.
1 cup fresh bread crumbs
2 eggs lightly beaten
Combined drained pork with other ingredients**
If to dry, add liquid from pork. Put in loaf pan and bake 1hr. at 350. ** Seasoning your choice. I use gd. pickling spices, Mexican or Italian spice blend.
Can be used when removed from oven or let cool, cover then weight with heavy can over night in fridge.
Cut thin. Can be rewarmed carefully or served cold.
This can be used for canned pork, chicken or beef. Just change seasonings.
April 15, 2009
0

found this helpful
It is very easy to can your own pork loin in a pressure canner. Raw pack using the recipe from the USDA approved source www.uga.edu/.../strips_cubes_chunks.html. If you need help, talk to your County Extension Office. You'll never buy it in a can again as this is delicious and it's very economical to purchase pork loin on sale. I just bought a huge loin for $1.69/lb at Safeway.
Read More

Answers