Lamb is often available around Easter and springtime. We got these chops from Costco. They turned out really delicious and were easy to prepare. If the weather had been nicer, we probably would have grilled them outside instead of on the grill pan. This would make an elegant Easter dinner or for a special occasion.
Grind the garlic, rosemary, thyme, cayenne and salt together. A mortar and pestle does a great job or you could use a food processor. Once they are ground finely enough, add the oil and mix that in until it is spreadable.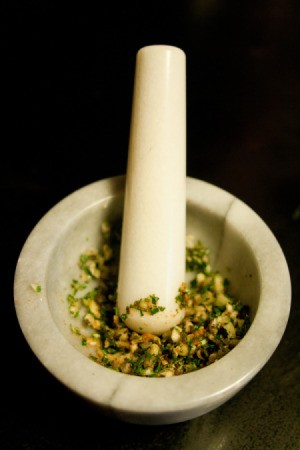 Baste the lamb chops on both sides with the marinade and put them in the fridge. Let the lamb chops sit for at least an hour in the refrigerator.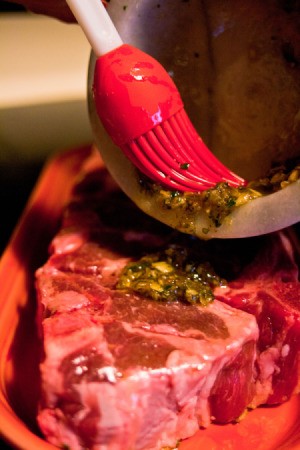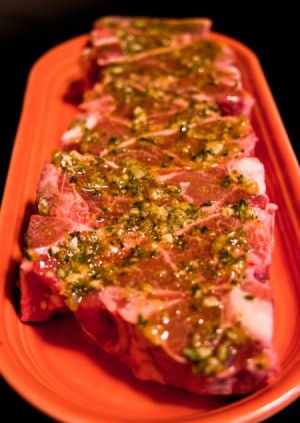 While the lamb chops were in the fridge, we chopped up some potatoes and spread a second batch of the marinade across them. We put the potatoes in the oven for 30 minutes at 350 degrees F.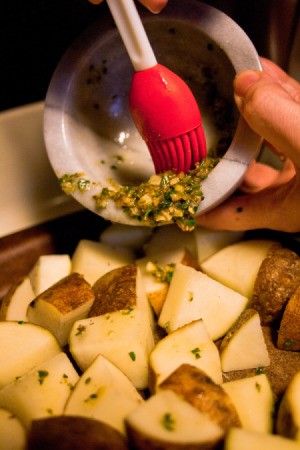 After a half an hour, we turned the potatoes, added a spray of oil (Misto) and put them back in for another 30 minutes.
The lamb chops need about 20 minutes to warm to room temperature, so they came out of the fridge when there was 20 minutes left on the potatoes. When the potatoes were cooked, we turned the oven temperature up to 425 degrees F to brown them while the lamb chops cooked, with a final mist of oil.
Warm a cast iron skillet on med-high, so it's good and hot but not scorching. The lamb chops had enough oil on them so we put them in the hot skillet without adding more oil. Cook them for 2 minutes on the first side (2 1/2-3 for a 1 inch chop), flip them once and cook them for 3 minutes for med-rare, 3 1/2 for medium.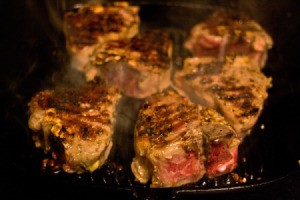 Once the chops are cooked, pull them off the heat and tent them with foil for about 5 minutes. While the lamb chops were resting, we steamed up some green beans to add next to the potatoes. Then we added the lamb chops to the plate and ground some fresh pepper over everything.