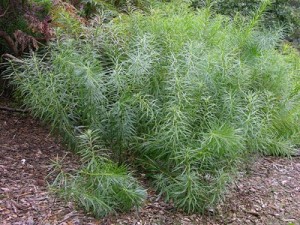 To be awarded Perennial Plant of the Year, a plant has to perform well in a wide range of climates, propagate with ease, show resistance to disease, and require minimal maintenance. For the second year in a row, members of the Perennial Plant Association have awarded the Perennial Plant of the Year to a native North American wildflower. This year the honors go to the lovely, and versatile, Arkansas Blue Star (Amsonia hubrichtii).
A Native For the Seasons
Amsonia hubrichtii
( pronounced "Am-SO-nee-ah hew-BRIK-tee-eye"), is a North American herbaceous shrub native to Arkansas and Oklahoma. It is a member of the Apocynceae family. Also known by the names Arkansas Blue Star and Thread Leaf Blue Star, the species was named after Leslie Hubricht, who discovered it in 1942. As is characteristic of many native plants, Amsonia exhibits a tolerance for drought and resistance to insects and disease.
It is widely adapted to growing in its native habitat in soils that are very lean. The delicate flowers bloom in late spring, and provide migrating birds and insects with a source of nectar. Even better, the foliage and stems of the plant contain a milky sap that deer find unpleasant.
A Perennial Workhorse
Amsonia grows well in Zones 4-9 and requires very little in the way of maintenance. Although it will grow in partial shade, it stands tallest and blooms best in full sun-too much shade results in floppy stems. Bright sun also serves to enhance the color of its hazy blue flowers and light green leaves in the spring and summer and amplifies its marvelous golden foliage in the fall. At maturity, its feathery, fern-like foliage forms a mound 36 inches tall and wide, making it the ideal plant to add an understory of texture to taller perennial flowers and shrubs. Clumps can be easily divided in early spring, and cutting the stems back to within 6-8 inches of the ground after flowering encourages fuller growth.
Amsonia looks best when planted in masses. Space plants 36 inches apart in straight or slightly staggered rows. Plants develop slowly, so don't worry if yours doesn't look like it's amounting to much for the first couple of years. Like many perennials, it won't reach its full potential for at least 3 to 4 years. The foliage looks wonderful when grown with ornamental grasses and flowers that have attractive seed heads like Echinacea. The real show though, comes in fall, when the golden-yellow foliage provides a traffic-stopping backdrop to fall flowers like sedums and mums.
Landscape Uses:
borders and foundation plantings
wildflower gardens
cottage-style gardens
large container plantings
woodland edges
Fast Facts
Amsonia hubrichtii
Common names:
Amsonia, Arkansas Blue Star, and Thread Leaf Blue Star.
Hardiness: USDA Zones 4 to 9.
Flowers: Wands of delicate, star-shaped, blue flowers; blooms in late spring/early summer.
Foliage: Feathery, fine-textured light green leaves in spring and summer; foliage turns a stunning golden-yellow in fall.
Growth habit: 36 inches tall and 36 inches wide; forms a 3-foot, shrub-like mound.
Light: Full sun (best) to partial shade.
Soil: Prefers average, moist, well-drained soil. Once established, plants develop greater drought resistance.
Propagation: Seed, division, or softwood cuttings.