Editor's Note:
This is such a beautiful plant we decided to republish Ellen's article to reintroduce you to this gorgeous blue geranium.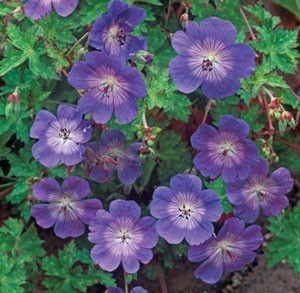 Recently, The Perennial Plant Association has announced that the 2008 Perennial Plant of the Year is Geranium 'Rozanne' (Rozanne cranesbill geranium). I'm not the least bit surprised. I stumbled on 'Rozanne' only a few years ago (I'm rather a late bloomer) and found it to be a real gem. This lively geranium has large, jewel-toned violet-blue flowers set on deep green, lightly marbled foliage. With its versatility in the garden and vibrant, long-lasting blooms, it's no wonder 'Rozanne' has been labled "the geranium of the millennium."
Background and Appearance
Husband and wife, Donald and Rozanne Waterer, first discovered this sturdy geranium in their Somerset, England garden in 1989. It is reported that in their never ending quest for pollen, the bees in the Waterer's garden inadvertently crossed two blue hardy geraniums, one G. himalayense, normally flowering in early June with G. wallichianum 'Buxton's Variety', which usually starts in late July or August. The resulting offspring was the very first appearance of 'Rozanne'. With its 2.5-inch, iridescent violet-blue, cup-shaped flowers with purple-violet veins and radiant white center, 'Rozanne' easily stood out among its peers. Among it many merits are a long bloom time (late spring to early autumn) and also its vigorous, dark green foliage, which is deeply cut and lightly marbled with chartreuse. Rozanne's foliage turns red in the autumn for additional impact.
Cultivation and Maintenance
'Rozanne' reaches 20-inches high and mounds to a 24-28 inch spread. A vigorous plant will cover 2-3 square feet in the garden very nicely. This geranium thrives in full sun to partial shade (afternoon shade is recommended in hot climates) and in sites offering moist, well-draining soil. Once established, however, 'Rozanne' shows exceptional tolerance to heat and drought among geraniums. An easy to care for plant, 'Rozanne' requires very little in the way of maintenance. Preserving its peak appearance requires no more than shearing back a few inches of old foliage in late summer, which will quickly be replaced by a fresh flush of flowers. Division is seldom required of this geranium-plan on once every 3-4 years. Geranium 'Roxanne' is hardy to USDA zones 5-8.
Landscape Use
Use Rozanne in front borders, as a tall groundcover or filler plant, or in hanging baskets. Plan to give it plenty of elbowroom, as it can overtake nearby plants once it reaches maturity. Yellow or chartreuse flowers or foliage are wonderful compliments to the vibrant purple flowers of 'Rozanne'. For an early summer pairing, try Leucanthemum 'Snowcap' or 'Silberprinzesschen' (Silver Princess). For long season performance, try pairing 'Rozanne' with salvias like "Rose Queen' or 'Pink Friesland.' Another great violet/pink combo includes Veronica spicata 'Tickled Pink'.
To emphasize autumn interest, shorter grasses such as Pennisetum alopecuroides 'Little Honey' are superb companions to Geranium 'Rozanne'. You'll find that 'Rozanne' also fills in nicely between daylilies and phlox, or with the foliage of nearby blue-gray or yellowish green hostas. Massed plantings of Rozanne provide carefree, billowy-textured mounds that look beautiful in front of bushy roses, such as the free-flowering, golden 'Graham Thomas.' In my own flower garden, I enjoy pairing "Roxanne' with bright fuchsia-colored Coral Bells.
Growing Guide At-A Glance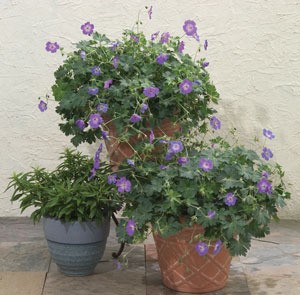 Hardiness: USDA zones 5 to 8
Flowers: The large, violet-blue flowers with purple-violet veins and small white centers offer non-stop flowering throughout the growing season-late spring to early fall.
Growth Rate/ Habits: Medium growth rate; height of 20-inches; free-flowing mounds with a 24-28-inch spread.
Exposure: Geranium 'Rozanne' thrives in full sun to partial shade. Afternoon shade is recommended in hot climates.
Soil: Rozanne prefers a site with moist, well-draining soil and has average water needs. Once established, it is both heat and drought tolerant.
Uses: The free-flowing flowers of Rozanne work well when used as a ground cover, mass planted as a front-border specimen, in hanging baskets, window boxes, or in patio containers.
Unique Characteristics: Deer and rabbit resistant. No known disease or insect problems.
Companions: Coral Bells, Ornamental Grasses, Hosta, Bearded Iris, Daylilies, Stonecrop, Bell Flowers, and Rose Bushes.
Identification Note: Occasionally in reference books, you may see the name GERWAT associated with Geranium 'Rosanne.' GERWAT is the identifier for this plant used in association with European Plant Breeders Rights: "GER" for geranium and "WAT" for the discoverer Waterer.
About the Perennial Plant Association
The Perennial Plant Association is a trade association made of perennial industry experts that helps consumers select plants that are easy to grow, low-maintenance, suitable for a wide range of climate types, and exhibit multi-seasonal interest. Essentially, perennial plant industry experts have done the homework, so all you have to do is plant and enjoy! According to Steven Still, Executive Director of the Perennial Plant Association, "Home owners can have great confidence the Perennial Plant of the Year will grow well in the garden."