When shopping for perennial bedding plants this year, you can expect to see a lot of plant labels marked 'Cheddar Pink'. That's because the Perennial Plant Association awarded Dianthus gratianopolitanus (also known as 'Feuerhexe' or 'Firewitch') the 2006 Perennial Plant of the Year. If you've grown cheddar pinks before, then you know what all of the fuss is about. If you haven't, give them a try.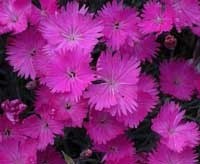 How to Win a Perennial Pageant
The Perennial Plant Association is a professional trade association dedicated to improving the perennial plant industry through education and by promoting the use of perennial plants. One way they do this is through their Perennial Plant of the Year program. Each year a committee narrows down an extensive list of plant nominations made by PPA members. To be considered, each plant must meet the following criteria:
They are suitable for a wide range of climate types.
They require low maintenance.
True plants are propagated easily from seed or by vegetative means.
The plants exhibit interest throughout multiple seasons.
Members cast votes for one of the final four perennial contenders and ta da! the lucky winner is selected.
What Makes This Pink So Special
Dianthus gratianopolitanus 'Firewitch' is a low growing, mat-forming alpine plant with a striking color combination of silvery, blue-gray foliage and brilliant purplish-pink flowers that look as though they've been trimmed with a pinking sheers. As the plant matures, the height of the foliage will reach 3 to 4 inches, with flower stalks reaching 6 to 8 inches high.
Like other Cheddar Pinks, the Firewitch comes into its peak bloom with relatively long- lasting flowers in mid to late spring. If the spent flowers are trimmed back after the first bloom, it can reward you with a second (even third) round of flowers again in the summer and into fall. The flowers also give off a spicy scent reminiscent of cloves, which makes it great along walkways and paths where passersby can brush against its fragrant blossoms.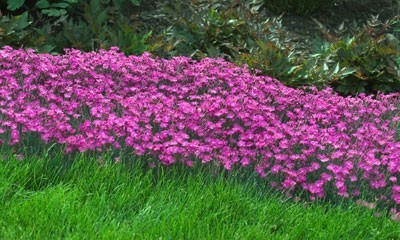 Growing Dianthus gratianopolitanus 'Firewitch'
Hardiness: grows well in Hardiness zones 3-9
Light: full sun (light shade in extremely hot climates)
Soil: well-drained, nutrient-rich soil with a neutral to slightly alkaline pH
Height: foliage 3 to 4 inches; flower stems up to 8 inches
Bloom Time: mid to late spring and again in summer and fall if spent flowers are removed
Flower: hot purplish-pink
Foliage: bluish-gray, remaining evergreen
Growing Hints: Plant Firewitch in full sun (or partial shade in extremely hot climates) in well-drained soil. Do not mulch with deep layers of organic matter. In climates with heavy-rainfall, mulch with pea stones or gravel to keep foliage dry. Cut back spent flowers in late spring to promote additional blooms for summer.
Propagation: Cultivars are propagated most easily by division before or immediately after flowering. They can also be propagated by tip or heel cuttings, seeds, or layering.
Suggested Uses: Great for borders, edgings, pathways, rock gardens, and ground covers for slopes or for plantings in wall crevices.
Interesting Fact: Dianthus gratianopolitanus 'Feurehexe' was first introduced by the Kayser & Seibert Nursery of Germany in 1957. It went largely unknown in North American nurseries until 1987, when it was discovered by Pierre Bennerup of Sunny Border Nurseries, Inc. in Connecticut. He saw two plants in bloom at a nursery in the Netherlands while on a perennial plant tour and decided to bring them back to the United States and propagate them. Since then, thousands have been sold in the United States.