When I try to grow an avocado plant, it starts to split and grow roots, but when the plant grows above the seed, it starts to turn brown. What is wrong? I make sure there is plenty of water in the glass.
By Judiann0909 from Bremen, OH
Answers:
Growing Avocados from a Seed
When you start anything in water it never develops the real fine hair roots that it needs to live in soil. You have 2 options; 1) either started straight in soil using a small pot of soil and placing the flat end in about a quarter of the way. I just put 3 pits in the yard where I want the tree to grow and hopefully one will grow or 2) in water using a small pot. In a bowl of water suspend your avocado pit with toothpicks over the smaller pot, after the roots form start adding soil to the water a little at a time in the pot. Once the pot is full of soil, lift it out of the water and treat as a regular potted plant. Once it is actively growing in the pot, move it outdoors and remember to protect from the heat/sun since it's been living indoors and not in direct sunlight.
Are you aware that the seed will not come true? That means it won't taste anything like the avocado it came from. It takes about 5 years before you get your first fruit, if you get any at all. And there's no telling what it will taste like, it could be absolutely horrible or the most delicious thing you've ever tasted.

Good Luck. (05/20/2009)

By BABBIE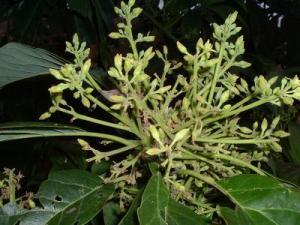 Growing Avocados from a Seed
Yes it can go outside in the summer. If your winters are cold ~ below 45 degrees (F) or 7 degrees (C) ~ you must bring your tree inside for the winter. Otherwise, if your winters are cool and mild, the tree may stay outdoors year round. Good luck. (05/20/2009)
By kffrmw88
Growing Avocados from a Seed
I started mine in water and put it in soil when it was about 3 inches tall. It's 15 inches now. I kept it in the house until it was about 8 inches. (05/22/2009)

By DiJones