EllenB
Gold Post Medal for All Time! 858 Posts
The art of Bonsai initially showed up on America's gardening radar after the Karate Kid movie trilogy in the early 1980s, when Pat Morita (a.k.a Mr. Miyagi) used a bonsai tree to teach Ralph Macchio (a.k.a Daniel Russo) the finer points of martial arts and life. In recent years, Bonsai has re-emerged as a popular pastime as people attempt to create spaces in the garden for reflection and meditation. As a hobby, the art of bonsai might be considered the ultimate gardening challenge. It takes a great deal of time, patience and skill. It doesn't have to be expensive, however, and the results are physically and spiritually rewarding.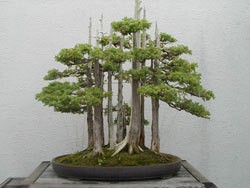 What It Is: A Horticultural Art Form
Roughly translated, the Japanese word bonsai (pronounced bon-sigh) means "planted in a tray." The art of bonsai is growing and training normal-sized plants to look like large, aged trees, only in miniature. The practice originated in China and was later refined in Japan. Over time, the western world has adopted this Asian horticultural tradition and today Bonsai has gained recognition as an international art form.
What It's Not: Torturing Small Trees
Bonsai plants are not genetically altered to grow to a dwarf size. And without understanding how Bonsai trees are cultured, it's easy to conclude that some kind of medieval form of gardening torture must be necessary in order to keep a full-sized tree small enough to grow in a pot. It's simply not true. The plants are not starved or forced to grow without sunlight. On the contrary, bonsai plants are given all of the same water, air, sun, and nutrients they would need to grow into full sized trees. Instead, the trees are kept small by pruning (branches and roots), repotting, pinching back new growth and training the branches to takes shape using wire. These practices are no different than many of the techniques gardeners use on other trees, shrubs, and plants in the garden.
Indoor vs. Outdoor Bonsai
Bonsai plants fall into two different categories: indoor and outdoor (outdoor plants making up the vast majority). It's very important to be able to distinguish between outdoor and indoor bonsai in order to choose the right plant. Many people unknowingly make the mistake of starting out with a tree suited for the outdoors, and try adapting it to living indoors (which it will never do). A short time after buying the tree it ends up dead. Assuming they are not cut out for the bonsai hobby, they simply throw in the towel and give up. If someone gives you bonsai plant as gift, make sure you find out what kind it is and if it's intended to live indoors or outdoors.
Bonsai grown indoors are usually tropical plants used to year-round warm temperatures that will adapt well to indoor conditions. These plants need full sun and should never be exposed to freezing temperatures.
Outdoor bonsai are hardy plants and trees that require seasonal change. Plants sold as outdoor bonsai typically come from temperate climates and require a winter-dormancy at near freezing temperatures. They can be kept indoors for a period of no more than a few days, because just like the trees in their native region, they become weak and die in an artificially controlled indoor environment. Outdoor bonsai species include junipers, spruces, and most of the conifers.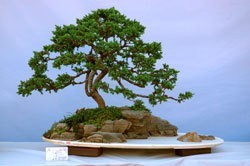 An Investment of Time
To see results, bonsai require years of specialized care. But if given proper care, trees can live for centuries, often much longer than their full-sized counterparts. They make wonderful living family trees. Families have been known to pass bonsai plants from one generation to the next, serving the living as a reminder of those who have passed, while allowing living relatives to add their own element of expression to the tree.
Watering: Proper watering is one of the most critical aspects of bonsai care. Trees can fool a person by looking healthy for weeks after they have died. Bonsai grown indoors should be watered every two or three days and proper care must be taken to maintain the proper humidity. Outdoor bonsai are watered according to the season-often daily in the spring, summer, and fall.
Pots and Repotting: Pots are an important aspect of bonsai. As an artistic element, people are often drawn to look at a bonsai because of the shape of the pot and the placement of the tree. To help maintain their growth, bonsai trees need to be repotted every four to fives years when the roots become pot-bound.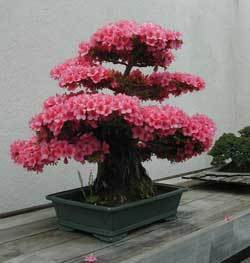 Pruning & Training: To get the age-old look in a miniature tree, bonsai roots and branches are periodically pruned and new growth is cut back. Branches are carefully trained with wire to give the tree an aged, twisted appearance.
Getting Started
There is a lot of information available on bonsai-especially online. The practice is steeped in history and tradition and it's best to do spend some time at the bookstore, library or on the web, before committing yourself to growing plants. Once you're ready to acquire a plant, find a reputable nursery and start with a species that is more suitable for beginners.
Like art, bonsai as a hobby should be subjective. Don't believe everything your read or worry about sticking to any hard and fast rules. The important thing to remember is that like all aspects of gardening, bonsai allows you the opportunity to cultivate patience, discipline and a beautiful living thing and learn new skill-all while being close to nature.
Read More

Comments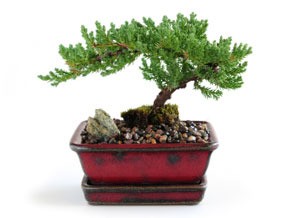 Question:
How can I grow a Bonsai Tree? I need info about the tree, soil and container.
Hardiness Zone: 8a
Betty from San Antonio, TX
Answer:
Betty,
Bonsai is the art of growing and training normal-sized plants to look like large, aged trees, only in miniature. Because there is a wide variety of plants that can be grown using bonsai techniques, there isn't a simple answer to your question. Containers and soils will vary depending on the age and type of bonsai specimen you grow, aesthetic preferences, and whether or not you grow your specimen inside or outdoors.
In terns of care, bonsai plants are given the same water, air, sun and nutrients they would need to grow into full-sized trees. The trees are kept small by pruning (both the branches and roots), repotting, pinching back new growth, and training the branches to takes shape using wire.
There are a lot of great books, websites, and videos available on bonsai basics. I would recommend reading all you can before jumping into buying a bonsai specimen. Here is an article I wrote a few years ago that will give you a quick overview of the art of bonsai:
And here is a great website called The Bonsai Primer. It contains great information on suitable plants for beginners, pot selection, care and feeding, and the basics on pruning and training.
Good luck!
Ellen
Answers

June 17, 2008
0

found this helpful
The answer to that question is too long for a thrifty fun post. I would suggest going to your local library or book store and getting a book on the subject. I liked:
Bonsai ; the complete guide to art and technique / Paul Lesniewicz
The author also wrote a good book about indoor bonsai, although some info overlaps.
How you "grow a bonsai" will depend on if you want an indoor or outdoor bonsai and which type of tree you want to grow. There are also websites out there that are helpful, but I would get a book to start with BEFORE you purchase a tree to train or an existing bonsai. Good luck and have fun!

August 21, 2008
0

found this helpful
I wish you good luck.I have had 3 in 20 years and they all died. 1-had some kind of funny little white worm in soil, 2.s till cannot figure out what happened and my last one the a/c was too cold on it( I think). I love them. Show pictures, ok?

August 23, 2008
0

found this helpful
I forgot to tell you to go to GardenWeb.com They have a complete forum on them. I found them too late. But Good Luck to you, ok?
By Betty Landrum (Guest Post)
August 26, 2008
0

found this helpful
Thanks for all the resource info. I'm not too sure I can but I think I'll try later this year and if I do and if I succeed I'll be glad to share.
Thanks again,
Betty
Answer

this Question

I was given a bonsai plant from my daughter for Christmas. I placed it outside in the shade and all its green leaves fell off and now its a brown color. Its still got strong roots so hopefully I haven't killed it. Please help. What have I done wrong?
Debbie
Answers

susan
Silver Feedback Medal for All Time! 472 Feedbacks
February 6, 2009
0

found this helpful
Almost any type of tree can be made into a bonsai, and it's hard to know, not knowing the type of tree it is. My thought is simply that a lot of plants are sensitive to their surroundings, and taking it outside gave it a shock; my weeping fig loses lots of leaves every spring when I put it outside for the summer, but they always grow back.
Another thought is that it dried out. Outside breezes will dry potted plants faster than inside air will. Bonsais are usually potted in very shallow containers, allowing the soil to dry quickly. If it wasn't dry too long, it will probably regrow its leaves. If it went without water for too long, it may die completely. I'd move it back inside and baby it. Even if the top is dead, if the roots are still alive, it may regrow another top. Unfortunately, bonsais grow really slowly, so it may take a long time.

Beth
Silver Feedback Medal for All Time! 407 Feedbacks
February 6, 2009
0

found this helpful
Some bonsais need a dormant period just like deciduous trees outside. The only bonsais that don't need a dormant period are the ones that are like evergreens.
I don't know anything else about that, but that you probably haven't killed it. I think you need to find out how to treat the dormant period.
Answer

this Question