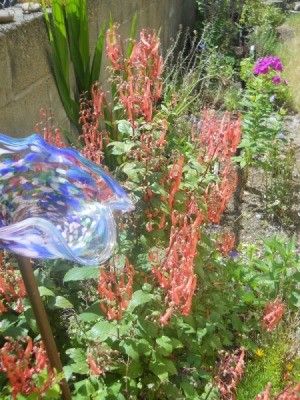 One of my favorite perennials is the Phygelius, commonly known as the cape fuchsia. I include them in my garden because they attract hummingbirds, bees, and other pollinators. They are a dependable bearer of lovely, warm hued flowers from spring, thoughout the summer, and into fall. You can encourage a longer bloom time by removing spent flowers (dead heading).
The name cape fuchsia refers to the Cape of Good Hope on the southern tip of South Africa. In their native habitat they are found growing in damp areas along streams and on grassy hillsides.
The common name for this shrubby perennial is actually misleading. Despite the fact that their tubular flowers are similar in appearance to a hardy fuchsia, they are in fact unrelated to the fuchsia. They belong to the Scrophulariaceae or figwort family and are related to foxglove and penstemon.
In zones 7 and higher they are hardy to 0 degrees F and can remain evergreen down to 20 degrees through the winter. In colder climates they are grown as annuals or tender perennials, reaching 3 - 5 feet in height and width. In colder climates you may have success having them survive the winter by planting near a south facing wall and mulching to protect the roots. They prefer full sun, but will tolerate light shady conditions. They grow best in a rich, well draining soil combined with regular watering during the dry season.
If the cape fuchsia is placed in a damp, but sunny garden location they can quickly spread (by running suckers) to fill the space. To keep these feisty shrubs in check, you may need to root prune with a shovel in the spring, provide a less favorable or constricted location, or even plant them in containers.
Should you want to propagate additional plants for other locations in your garden or to share with other gardeners, the easiest way is to dig up the running suckers and pot them. Keep them out of the hot sun and well watered and you should have good success. You can also grow new plants from seed. Simply collect the seeds when the pods turn brown and dry. Crack open the pods and store the seeds in a paper bag in a warm spot until they are completely dry. Then move to a cool, dry location for spring sowing. You can also start them early if you have a greenhouse.
Originally, cape fuchsia plants were only available with yellow and red blooms. Now you can find peach, pink, and even magenta flowering varieties. The flowers grow in clusters atop sturdy stems. Their tubular shape make them a favorite of hummingbirds. These striking plants pair well with many garden shrubs and flowers, experiment to find the combination you like the best. Mine are part of a jumbled, mixed, strip garden, along with hardy fuchsia, salvia, daisies, rudbeckia, yarrow, and more. I also have some plants near a stone wall as more isolated specimens. I hope that you will give them a try and that you enjoy them as much as I do.