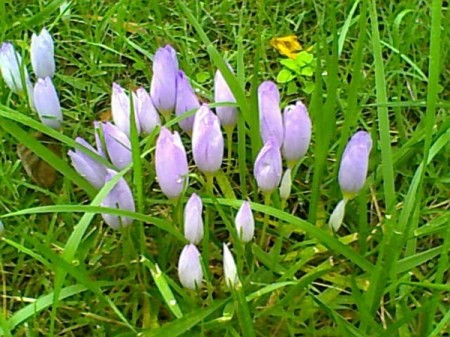 Photo Description
I mentioned in another post how fall tends to play havoc with my mood. Here is another flower that helps lift my low spirits caused by the onset of autumn.
The flower is Colchicum. It has several common names, the most popular being autumn crocus. I think that name is appropriate. It does resemble a crocus very much.
I didn't plant these flowers. They were here when I moved in. I was quite astonished to step outside one day only to see a carpet of these little beauties in full bloom on a side lawn.
For a short period during spring, there arises a fine grasslike foliage. It's hardly noticeable as it blends in with the grass. It dies down in two or three weeks.
Then, in mid October, there arises a single bloom stalk, topped with a beautiful little flower. Sadly, the blooms don't last very long, either. In a couple of weeks they'll be gone.
Their brief display is a small price to pay. They catch me by surprise every year, and a pleasant surprise it is. And so carefree. I've never done anything to support them, and they always return.
There are many varieties of this plant, each prettier than the last. It does have one drawback. Most parts of the plant are poisonous. I grow it without worry, but I would not permit small children to play where it is growing while in foliage or in bloom.
September 26, 2017
0

found this helpful
Almost time for these little beauties to raise their head again..
I love plants like this as their unexpected arrival lets me know that I am not always in control. Take more pics this year - please.
September 26, 2017
0

found this helpful
Were you ever in control? Clinical evidence strongly suggests the brain has a mind of its own, and the thoughts you think you think are actually thought by the brain's mind before you think them (or think you think them).
September 26, 2017
0

found this helpful
And if you think you think them, is that you thinking you thought them or is that just more of your brain thinking? Maybe you don't think at all. Maybe your consciousness consists of nothing but hearing your brains thoughts and think they are your own. But then, that would mean you could think your own thoughts. Actually, when you think you think your own thoughts that's just the brain thinking 'out loud'.
Who said, 'I think, therefore I am'? Maybe the quote should have been, 'My brain thinks, therefore my brain is'. But then, where does that leave me? Thoughtless....I think (I mean, my brain thinks).
Rohinton Mistry:
Flirting with madness was one thing; when madness started flirting back, it was time to call the whole thing off.