Make your vegetables go further by re-growing them. The trimmings of certain vegetables will grow again if you put them in a pot of compost, place them on your windowsill and keep them watered. The photo shows celery leaves grown from the base of a bunch of celery.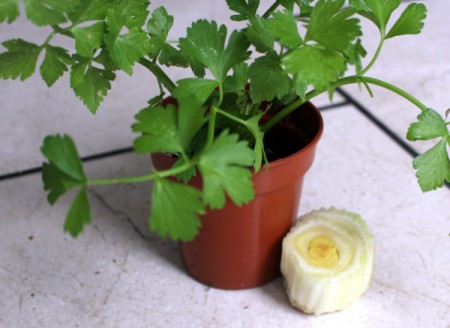 Try carrot tops, the base of a lettuce or cabbage, the base of a fennel bulb, or an onion.
You could also experiment with the knobbly bits off ginger. All these should grow nice leafy stalks which can be chopped and added to sandwiches, soups, stews, stir fries, and salads for extra flavour and goodness.
Also you can plant the seeds of sweet or hot chilli peppers and grow new plants by your kitchen window which should eventually flower and fruit giving you more peppers.