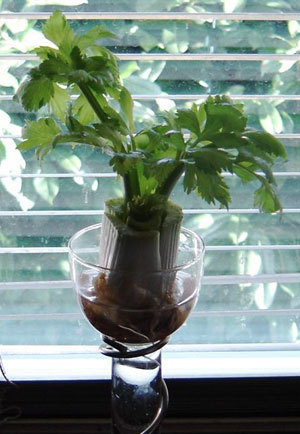 Grow celery hearts on your windowsill this winter. It's easy and they're pretty and delicious.
Next time you buy a stalk of celery, cut the heel off about an inch from the bottom. That is, cut across the stalk so you have a crosswise slice off the end. Then do what we used to do with avocado pits - stick a few toothpicks in the side, fill a glass almost to the top with water, and rest the celery heel with toothpicks on the rim of the glass so that the bottom of the heel is just touching the water.
Keep the water at that level, and after a week or so, you'll have little celery hearts sprouting from the middle of the heel. They keep sprouting for weeks.
By Jantoo from Kenosha Co, WI
Editor's Note: This was a new one for me and I tried it. The picture is my celery heart plant. I bought some candle holders from Big Lots that work very well as a little vase for rooting. It was lovely and lasted for a long time. I'm going to start a new one and try planting it in the garden.
Comments
Read More Comments