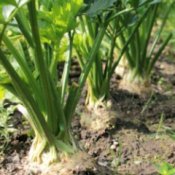 Celery can be grown in just about any climate as long as you have the time and patience. Traditional trench-grown celery, which requires specific soil conditions and constant attention over a long growing season, has given this vegetable its demanding reputation. However, many of today's celery varieties are self-blanching and therefore much less labor-intensive and easier to grow.
Site and Soil
Celery was developed from a wild marsh plant, so if you have wet soil or a high water table, you are probably looking at the ideal growing conditions. If you don't have wet soil you can still grow it, you just need to keep the soil evenly moist (not soggy) all season. Celery also grows in partial shade (with at least a half day of sun) and doesn't need a lot of space. A row 8 feet long will provide enough space to grow at least a dozen bunches of celery.
Celery is one of the heaviest feeders in the vegetable garden. It needs very rich soil. It is an equally voracious drinker. Prepare the site by spreading a 4 inch layer of well-rotted manure or compost over the soil and dig it in well to a depth of 6 to 8 inches. If your soil is heavy with clay, build raised beds or amend the soil by adding generous amounts of sand and compost.
Planting
Celery takes a long time to grow ( 80 to 120 from seed to maturity), so if given the choice, it is easier to buy seedlings than to grow it from seed. Unfortunately, bedding plants are not always easy to come by-especially if you are hoping to find a wide range of varieties.
The seeds are tiny, take about two weeks to germinate, and are fussy about light, warmth, and, moisture. For a late-summer crop, sow them indoors 8 to 10 weeks before the last average frost date; for a fall crop, sow outdoors in May or June in a cool, shady part of the garden. Start seeds in flats or individual peat pots filled with a sterile seed-starting medium, barely covering them with a thin layer of sand (they need some light to germinate). Provide them with good drainage, but keep the soil moist. Keep flats out of direct sunlight, where soil temperatures in a place where soil temperatures will stay between 55 F (night) and 70 F (day). Once plants emerge, keep daytime temperatures between 65 and 75 F and nighttime temperatures between 60 and 65 F.
When plants reach 4 inches tall, move them to individual pots, or use a scissors to thin them to one plant per pot. Harden off and transplant to the garden after the last frost, when temperatures remain consistently above 45 F. Space plants 6 to 8 inches apart with the crowns set in a bit below soil level and spread 4 to 8 inches of organic mulch around the plants. If you plan to blanch them the traditional way, set the plants into a deep trench and continue to fill the trench with soil, covering the stalks as they grow.
Care and Feeding
Keep the soil evenly moist throughout the growing season. Even if you enriched the soil, give each seedling a 1/2 strength liquid organic fertilizer on planting, and continue to fertilize every two weeks or so until they reach 8 inches tall. Keep the beds free of weeds, as celery plants will not tolerate competition.
If temperatures start to drop below 50 F protect young plants by covering them with floating row covers or cloches. Unlike most plants that bolt during the heat, it's exposure to cold that causes celery to flower prematurely.
Blanching
Celery stalks that have been blanched (blocked from light) are tender and taste sweeter, although their pale color signals the loss of certain vitamins. If you prefer the taste, there are several self-blanching varieties available, or you can blanch the stalks yourself using one of the following methods:
Soil or mulch. Mound loose soil or mulch up around a single celery plant or a row of plants as they grow.
Cans or milk cartons. Blanch individual celery plants by slipping a large metal can or milk carton (with the ends cut out) over each plant. You can also wrap the stalks loosely in several layers of newspaper.
Boards. Push a board firmly up against a row of celery and secure it with stakes. Secure a second board on the other side.
Pests and Diseases
Providing you started with good seeds (or plants) and good soil, celery should stay resistant to most disease. Fungal diseases like "early blight" and "late blight" can usually be avoided through good cultivation practices. Caterpillars of the black swallowtail butterfly sometimes frequent celery plants. After they shed, these caterpillars sometimes have a coloring similar to monarch caterpillars (black, white, and yellow).
They can be picked off by hand, but consider sparing them, as having some beautiful swallowtail butterflies flitter around the garden would be well worth the price of losing a few plants.
How to Harvest
When the plant looks like a mature bunch of celery, cut stalks from the outside of the plant as you need them, or cut whole plants free using a sharp spade just below the soil. You can prolong your harvest past the first frosts in the fall by mulching heavily with straw.
Read More

Comments