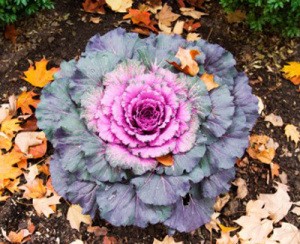 Ornamental kales are said to be the "daffodils and tulips" of the fall garden, and a great way to fill in gaps and brighten up fading flower beds. They laugh in the face of dropping temperatures and frost, in fact, cooler weather only serves to intensify their color. Not only are they beautiful in the landscape, but they pack a nutritious punch at the dinner table.
Botanical Facts
Ornamental kales are members of the Brassica family, the same family that includes cabbage, broccoli, cauliflower, and Brussels sprouts. They are sometimes erroneously labeled and sold as "ornamental cabbage", which can be a bit confusing. Kale is a form of cabbage (considered closer to wild cabbage), but it doesn't form a head like ornamental cabbage.
Its teal green leaves are feathery or crinkly in appearance, and form a large inner rosette that, depending on the variety, can be cream, pink, rose, red, or even purple in color. Plants will grow to a mature height of 10 to 15 inches with a diameter of approximately 12 inches across.
Although botanically speaking ornamental kale is a biennial (reproductive flowers don't appear until the second year), it is usually grown as an annual in the garden. Seeds are readily available for gardeners who prefer to grow their own plants, and 4 to 6 inch potted seedlings can be found at local greenhouses and garden centers (and sometimes grocery stores) from August through September.
Nutritional Benefits
The cabbage family of vegetables offers numerous health benefits. From a nutrient standpoint, kale provides excellent levels of vitamin C, potassium, iron, and calcium. According to the American Cancer Society, it also contains many anutrients (pigments like carotenes and chlorophyll) that have demonstrated anticancer properties. When included in your diet on a regular basis, vegetables in the Brassica family, like kale, may help reduce the risk of some cancers. Only the leaves should be eaten, not the roots.
Uses in the Kitchen and the Landscape
Ornamental kale is often used by restaurants as a garnish. Although just as nutritious, it's bred for its colorful leaves so it's not as tender (and some say not as tasty) as its culinary cousins. Snip off leaves as needed to use as a garnish, or as a nutritional and colorful addition to seasonal soups and salads.
In the landscape, use ornamental kale like you would any other bedding plant. Incorporate them into containers for seasonal displays, plant them along walkways, or use them in flower beds as replacements for spent annuals and perennials. When planting them in groups, a mixture of both pink/purple and white varieties will create a brilliant contrast of color.
Growing Requirements
Starting from seed: Plant seeds in flats or small pots at least 8 weeks before you expect to transplant them into the garden. Timing is critical. Shoot for mid to late July, but no later than early-August. Space plants close together when they are young to encourage roots to grow deep. Setting them in the ground up to their first set of leaves can encourage sturdy, upright growth and help prevent them from falling over, however you may also have to stake them. When transplanting container seedlings to garden beds, take special care to not injure delicate roots.
Site: Prefers full sun and well-drained soil. Space plants 10 to 12 inches apart.
Temperature: Ornamental kale loves cooler temperatures and will bolt in hot weather. Plants will not reach their full color potential until temperatures start to stay below at least 60 degrees F on a regular basis. Set them out in early October for the best show.
Water: Kale prefers cool, moist soil. Water as necessary to keep soil moist (not wet).
Fertilizer: Using a half-strength balanced liquid fertilizer, feed them lightly until they mature. Stop fertilizing them at maturity or they won't reach their color potential.