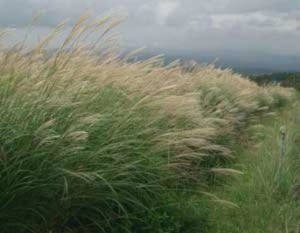 Life Cycle:
perennial
Planting Time:
spring or summer
Height:
height varies from compact mounds to tall screens to spreading mats
Exposure:
full sun to partial shade
Soil:
all types; most grasses are adaptable to soggy, dry or nutrient poor sites where other plants will not grow
Hardiness:
depends on variety
Bloom Time:
depends on grass type
Flower:
a wide variety of colorful flower spikes including maroon, red, pink, silver, white, yellow or beige.
Foliage:
various textures and colors including greens, blues, reds, whites, yellows and variegated blades; seed heads range from inconspicuous to dramatic feathery plumes
Propagation:
seeds
Suggested Use:
fillers, screens, borders, backdrops, ground covers, winter interest, container plants, ornamental accents and dried arrangements
Growing Hints:
Growing requirements vary by grass type. Care should be taken to provide adequate space for growth, without allowing grasses to take over your garden. Grasses should be spaced as far apart from other plants as they are tall. Set plants into prepared holes so that root balls rest just below the surface. Holes should be twice as deep as the root ball. Add compost before filling. Grass should receive 1 inch of water per week throughout the first season. Add mulch around base in the fall to protect roots and shoots from freezing over winter and to provide new nutrients for next season's growth. Fertilize in the spring with a slow release 3-1-2 fertilizer. Common oriental grasses include: Pampas, Purple Fountain Grass, Blue Fescue, Maiden Grass and Zebra Grass.
Pruning Oriental Grasses:
Grasses experiencing winter dieback can be cut back to within a few inches of the ground in early spring before new growth begins. Evergreen grasses generally do not need trimming or pruning.
July 13, 2010
3

found this helpful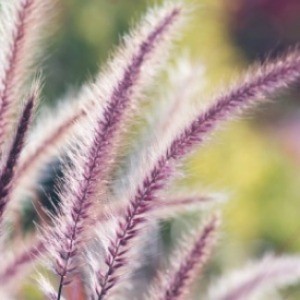 In the past few years, ornamental grasses have quickly gained popularity among gardeners. One reason is their incredible versatility. Not only do they add height, sound, movement, and visual appeal to garden landscapes, but they also thrive in less-than-ideal soil conditions and require only a minimal amount of maintenance.
Uses for Ornamental Grasses
Ornamental grasses can be used in a variety of ways:
perennial borders
ground covers
specimen plants
Containers plants
cut/dried flower arrangements
provide winter interest
add an element of height, movement, and sound
as shelter for wildlife
Selecting Grass Varieties
Depending on the growing zone, ornamental grasses can be considered herbaceous perennials or annuals. Before you select ornamental grass varieties for your garden, consider the height and spread of the species, what time of the year it's actively growing, (cool seasons or warm seasons) and its growth habits (forms clumps or rhizomes).
Cool season grasses: Cool season ornamental grasses start to grow early in the spring. They put on the most growth and look their best during the cooler temperatures of spring and fall. Because they are not as drought tolerant as warm season grasses, when summer temperatures start to climb cool season grasses go dormant and turn brown. Once temperature cool, growth resumes. To keep cool season grasses looking good year after year, frequent division is necessary to prevent them from "dying-out" in the center. Examples of cool season grasses include Blue Oat Grass, Tufted Hair Grass, and Fescues.
Warm season grasses: Warm season ornamental grasses don't start to pour on the growth until the weather warms up. Once they get going, they are drought tolerant and maintain active growth even during hot and dry conditions. Unlike cool season grasses, warm season grasses do not require frequent division. To maintain their tidy appearance, cut warm season grasses back to a length of 4-6 inches in the spring. Examples of warm season grasses include Hardy Pampas Grass, Switch Grass and Japanese Silver Grass.
Clumping grasses: Clumping grasses form mounds or clumps. These types of grasses look great mixed in with perennials. They will not become invasive and take over your flowerbeds, but because they gradually grow larger (in diameter) over time, they require division every 2-3 years to keep them looking their best.
Running grasses: Runner grasses (rhizome-forming grasses) spread (sometimes aggressively) by way of underground stems called rhizomes. This growth habit makes them excellent candidates for ground covers, especially on slopes or uneven ground where it is difficult to mow. As ground covers, they help to stabilize soil and prevent erosion. If not being used as a ground cover, these grass types can easily be maintained in containers. When planted in beds and borders they will quickly grow out of control and overrun perennials.
Planting
Ornamental grasses can be planted in the spring or the fall. Gardeners in growing zones with cold winters should plant them in the spring so the plants have enough time to establish their roots before winter. Plant them at the same depth they were growing in nursery pots--any deeper and you will risk root rot.
Site: For the best color and greatest blooms, most varieties prefer a site with full sun (or at least 3-5 hours daily). A few species like Sedges, White Striped Ribbon Grass, and Northern Sea Oats tolerate partial shade.
Soil: Ornamental grasses tolerate a wide range of soil conditions. Light, well-drained soil are best, however certain species like Japanese Silver Grass and Switch Grass will grow well in moist, heavy soils.
Safety: Because grasses are highly flammable when dry, they should not be planted close to homes and other buildings where they can pose a fire hazard.
Watering
Regular watering is important, especially during the first year when plants are establishing root systems. In general, ornamental grasses are considered drought tolerant and do not need regular watering. The exception is some cool season grasses, which may require extra water to carry them through dry spells.
Fertilization
Unless growth lacks vigor and their appearance suggests otherwise, ornamental grasses don't require much (if any) fertilization. In fact, too much fertilizer (especially nitrogen) will actually result in floppy growth. If your soil is unusually poor or the grasses seem to be losing vigor, applying a slow-release balanced fertilizer (10-10-10) annually in the spring (1/2 cup per 100 square feet should be more than sufficient).
Propagation
Ornamental grasses can be propagated by seed or through division. Annual grasses are easily grown from seed, but division is the easiest and most convenient way to propagate perennials. (Hybrid grasses will not come true from seed and must be propagated this way.) Division should be done in the spring just as new growth begins, or in the late summer or fall after the growing season.
Winter Protection and Spring Clean Up
Ornamental grasses can be left uncut until spring. Not only does this provide winter interest in the garden as well as shelter to small animals, but leaving the dead, dried foliage helps supply the plant with nutrients when spring growth resumes. In the fall, add 3-4 inches of mulch around the base of the plants to protect roots from freezing. In early spring, cut dried foliage back to about 4-6 inches from the ground to expedite the start of new growth.
Q:
I think I'm zone 5/6. I would like to plant ornamental grasses near my deck. It's partial sun. Morning and then afternoon. I was told it needs full sun. Any help? Any ideas also where I can get it in smaller pots so it's not so costly?
Hardiness Zone: 5a
Valery from NJ
A: Valery,
Many ornamental grasses grow best in full sun, but there are still options hardy to zone 5 that tolerate partial shade. Keep in mind that most grasses need a minimum of 3 to 5 hours of direct sun per day to flower and present their best color. It really depends on whether you're looking for something that gets off to an early start(cool season grasses), or something that blooms later in the summer (warm season grasses). Also consider height, color and annual or perennial. Here are a few to check into:
Blue Fescue has a gorgeous silvery-blue color (and other colors depending on variety) and grows about 12-18 inches tall and keeps its color through fall.
Feather Reed Grass (Karl Forester) grows from 3-5 feet tall. This grass adds a very architectural element to the garden with vertical green stalks and white to reddish white flowers.
Little Bluestem is a silvery-green color in the summer and turns an orange/red in the fall. It grows to a height of 2-4 feet.
The seed heads of Quaking Grass sound like the tail of a rattle snake when dry and are a great addition to fresh and dried arrangements. It grows to about 12-18 inches tall.
Also consider Idaho Fescue (Siskiyou Blue), Blue Oat Grass, June Grass, Prarie Dropseed and Silky threadgrass.
Many ornamental grasses can be grown successfully from seed (especially annuals), which is always cheaper than buying them in pots. I would start with posting on the Thriftyfun.com seed exchange and then search Ornamental Grass Seed online.
Ellen
Answers
By (Guest Post)
March 31, 2006
0

found this helpful
Hi, I live in zone 7 and have ornamental grasses and they have thrived in the shade. ginny
By (Guest Post)
April 2, 2006
0

found this helpful
I live in zone 5 and my ornamental grass is located in the shade. Grows nicely with no problems. Have you tried (or interested in) using seeds from the nursery/store?
Answer

this Question

...