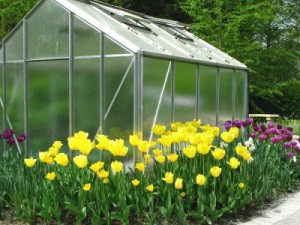 Greenhouses allow you to extend your growing season, raise new types of plants, and maintain total control over growing conditions. Fortunately, you no longer have to be a professional plant grower to enjoy the benefits of owning one. From simple, unheated structures that fit on a porch or patio to elaborate climate-controlled conservatories designed for your backyard, there are styles and prices available to suit every gardener's taste and budget. If you're thinking about getting into greenhouse gardening, here are some things to consider.
Budget and Size
Whether you're buying a kit or building your own, greenhouses come in a range of sizes and prices. With a little research and planning, you can easily find a style that suits your space, budget, and growing needs.
Make sure you consider ALL the costs. Take into account the cost of the kit or the cost of building a greenhouse, as well as the long-term utility costs (electricity and water). Depending on where you live and what type of plants you want to grow, you may need to add supplemental heat. "Warm" greenhouses are usually kept at temperatures above 60 degrees F. "Cool" greenhouses are usually kept above 45 degrees F.
When estimating the size of your greenhouse, it's a good idea to plan for something slightly bigger than you think you will need. Greenhouses are like sailboats, most people who own them think the ideal size is about 5 feet longer than the one they currently have.
If you're building your own, the type of materials used to construct a greenhouse can contribute significantly to its cost. Aluminum and wood are commonly used for framing, and both have their advantages and disadvantages. Remember to look beyond your budget and consider your climate. How will weather conditions in your area affect the overall function and lifespan of different types of building materials?
Light & Location
The location of your greenhouse is key. It needs access to full sun in order to trap solar energy and create the ideal growing environment for your plants. There are lots of ways to add shade to a greenhouse, but a site without full sun will limit the types of plants you can grow, or make it necessary to install supplemental lighting.
Ideally, small patio units and attached, lean-to types of greenhouses should have a southern exposure.
Free-standing structures should be placed on a level sites and oriented so their longer (lengthwise) side is exposed to midday sun.
Site your greenhouse so that its convenient to your house, as well as to electricity and water hook-ups.
The quality and quantity of light your plants receive can vary depending on the type of glazing material used (the see-through material used to cover the framing). This can be especially important to gardeners living in areas that receive less sun. Common choices for glazing materials include glass (best transmitter of light) and different types of "see-through" plastics (various qualities of light transmission).
Heating & Ventilation
Greenhouses need to be kept warm, however, keeping them from overheating during unpredictable weather is also important for both plant growth and disease control.
Vents or fans need to be installed near the ceiling to keep air moving and allow hot air to escape. Some types are controlled manually, while others are designed to open automatically when the air reaches a preset temperature.
Like the outdoors, greenhouses contain mini-microclimates (hot and warm spots). Thermometers placed throughout your greenhouse will quickly indicate where these are. When used to your advantage, you can grow both heat-loving plants (tomatoes and peppers) and cold-tolerant plants (lettuce) successfully under one roof.
There are several ways to add supplemental heat to your greenhouse. One is to install a dark material on the floor (stone, bricks) that will absorb heat during the day and release it again at night. Another is to create a "greenhouse with your greenhouse" by attaching a curtain of plastic over one area and using a small electric space heater to heat it. If attached to your home, you may want to tie your greenhouse directly into your heating system. Many gardeners also use natural gas or small propane heaters. These need to be vented to the outside to prevent the gases they produce (sulfur dioxide and ethylene) from harming your plants.
What You Can Grow
Greenhouses will allow you to save money on bedding plants by making it easy for you to grow your own. They also allow you to try fruits, vegetables, and flowers that require a longer (or warmer) season than you can give them outdoors. When shopping for seeds and plants look for the following:
Plants recommended for indoor growing.
Compact crops designed to grow well in small spaces or in containers.
Plants that climb or trail to make use of vertical space.
Fast growing crops that mature early.
Cultivars with proven disease resistance.
I have a new 1400 sq. ft. greenhouse (not a kit) that has just been finished. I want to grow fruits and vegetables commercially and I do have a lot in mind, but I need to have some input from your readers since they all seem to have good level advice. I have grown large gardens, which I will continue to do, but the greenhouse is different. Please let me hear from all of you. Thanks in advance.
By Nikki from ID
Answers
September 10, 2011
0

found this helpful
The first thing to do is make sure that any seeds (or plants you want to propagate) you're thinking of using, are not covered by a patent. It is against the law in the US to sell any plant that is under patent (unless it's your patent, of course).
The next thing to do is contact your local extension office (Google the nearest university plus the words cooperative extension service) and make sure that you understand the law for your area for market gardening-whether you plan to sell transplants or harvested produce. There are very strict laws governing the activity and you could find yourself in very serious trouble if you don't know the laws.
Many small market gardeners have found themselves facing FDA and other ag concern agents. The laws can be picayune, but they can also save lives-a lot of e.coli, and other potentially fatal illness has been traced back to the greenhouse or garden-not knowing is no excuse.
Better to start out right-know the laws and practice the good husbandry required to protect your customers.
Answer

this Question

...
This summer I didn't get a lot out of my garden due to all the wet weather and me having surgery. I am wondering if I can raise summer food in a greenhouse? Or does it have to be winter vegetables? I'd like to have more tomatoes, peppers, onions, etc. through the winter without having to pay a fortune for them in a grocery store.
Maybe it needs some solar heat? Does anyone know how to set up solar heat? The greenhouse I'm talking about isn't anything fancy, just a few boards and plastic. The idea here is to save money not waste it. Thank you.
Hardiness Zone: 7b
By Beverly from Havana, AR
Answers
October 1, 2009
0

found this helpful
I don't know anything about solar heat but you can find it online. Just search for"growing summer vegetables with solar heat". Alot of info there, good luck.
Answer

this Question

...