I remember my mom growing sweet potato vines (as house plants) in a mason jar. How do you do it? I'd love to know. Can they remain in the water with some marbles in the bottom, or do they need to be planted? What type of light do they need? If I need to plant them, what do I keep the moisture level at for the soil?
I can't remember which end of the sweet potatoe to place in water to root it?
Thanks,
jenny from KY
Answers
December 31, 2004
4

found this helpful
You put the end that is "pointed" down in the water in the jar. You can grow these in your kitchen window or anywhere else in your home, where there is natural sunlight. Once you put the potato down in the jar, only about half of the potato should be in the water. You don't ever have to plant these. From what I could tell, they could live indefinitely in the jar.
I hope this helps.
By gail2656 (Guest Post)
July 17, 2005
1

found this helpful
I grow them every year with my kids in school...they enjoy watching the vine grow
By Lavell Rankin (Guest Post)
August 26, 2005
0

found this helpful
My sweet potato in the jar keeps getting moldy. I just moved it to a window that gets more direct light, but does anyone have another suggestion?
lavell1 @ comcast.net (remove spaces)
By john (Guest Post)
April 27, 2006
0

found this helpful
hello,
the first thing you do is you get a jar and fill it with water(make sure you leave an inch without water).then insert the root end in the jar make sure that the end was in the water
February 7, 2008
0

found this helpful
I tried to grow a vine from a sweet potato, and it only rooted a little, my sister told me that my mom use to cut one end off, but do you put the cut in down in the water or up out of the water? I didn't cut an end off and the potato rotted!""
By Dana in PA (Guest Post)
July 22, 2008
0

found this helpful
I tried the sweet potato in the mason jar thing. I used the tooth picks and changed the water every other day and kept it in a sunny window.
But after a week the part that was immersed in water rotted! What did I do wrong? Dana in Pa
By (Guest Post)
October 25, 2008
0

found this helpful
Can u eat them? I have them growing like crazy.
By walter17 (Guest Post)
November 6, 2008
0

found this helpful
I'm trying to grow an Okinawan sweet potato. I soaked the long part of the potato. That part started to rot. So I cut the rotted part off and turned it around.
So can anybody tell me if that is right or wrong? Anyone in Hawaii?
By leela. (Guest Post)
November 23, 2008
1

found this helpful
You should put the pointed end of the potato into the water. Let about 1/3 of the potato stick out the top of the jar three or four toothpicks.
Sunny warm window or on top of the fridge. Add water as needed. Should be good to go...er grow! Very easy plant and pretty, too.
By (Guest Post)
December 30, 2008
1

found this helpful
I think success/failure depends a lot on how long the potato was in cold storage before you bought it. So try again, after you ask your friendly produce manager!
May 14, 2016
1

found this helpful
Stick a toothpick on each side so the bottom tip is in water. It will get sprouts everywhere. Be sure you put it in a place, or window for light. Once it starts growing it is nearly impossble to move. Mine I have just added water, but 2 drops of mirale grow probably wouldn't hurt.
Answer

this Question

...
Perk up that bare kitchen window with a sweet potato vine. Place a sweet potato in a vase or glass, holding it up with three toothpicks so it doesn't fall to the bottom of the vase. When it sprouts, the sprouts will grow straight up until their weight causes them to fall over. You will have to fasten them with string or yarn to get the runners to go where you want them to grow. Be sure to keep it watered.

They will grow wherever you direct them. I had one in my office and it went up in the corner and around the side of the room, and then I directed it back the way it came. I've been told the runners could be planted so you could grow your own sweet potatoes, but I've never tried that. Also, it is educational for little children to see it grow.

Source: My mother had a sweet potato vine in our kitchen window in 1939, and many times after that.

By Clynn Altemus from Inglis, FL

Answers: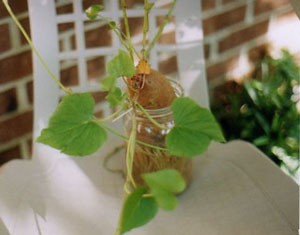 Here's an interesting and fun indoor project, that can be shared with your children/grandchildren!

At the supermarket, select a sweet potato that will fit in a see-through container. (A canning jar works nicely.)

Position the potato, so about two-thirds of it is down in the jar. You may need to insert 2-3 round toothpicks into the potato at the jar rim level, so the potato can "sit" in place. (See Photo).

Fill the jar halfway or more, with water. Now, everyone can watch as within a matter of weeks, the potato roots in the water. Keep adding water, as needed, and then vine sprouts will appear on top. Once the vine begins to grow, it is fascinating to see it daily. And it is pretty, too!

By Maggie from Park Hills, MO

Answers:
Grow A Sweet Potato Vine Right In Your Home!
A neat project but remember sweet potato leaves are poisonous so be sure to teach kids not to eat them. If the kids are very young, err on the side of safety and wait until they can understand that sometimes plants can have dangerous parts as well as safe parts. (07/03/2008)

By Dave
Grow a Sweet Potato Vine Right in Your Home!
Potato leaves may be toxic, but sweet potato leaves (Ipomoea batatas) are not. The tender leaves are eaten as delicacies in Indonesia and the Philippines, and are sold in Asian stores. They are in the USDA food database. For nutritional information, raw are #11505. Bon appetit! (07/07/2008)

By P
Grow a Sweet Potato Vine Right in Your Home!
Hi Maggie; Just yesterday I was looking at a sweet potato in my cupboard that has sprouted eyes. I was thinking of planting it in a large flower pot to see what comes up, but after seeing your post have decided differently. I will place it in the water as you posted and both my daughter and I can enjoy watching it grow. Thanks for the post.
Karyn (07/07/2008)

By Karyn
Grow a Sweet Potato Vine Right in Your Home!
We did this as a kid, thought it was "cool" to grow something from a jar. Thanks for the memories! (07/17/2008)

By badwater
Grow a Sweet Potato Vine Right in Your Home!
The leaves are NOT toxic and are very edible. Stir fried is an excellent way to cook them. It is a common dish in Taiwan, with olive oil, garlic, and salt, yum. (12/03/2008)

By Dennis