ThriftyFun's slogan is 'ThriftyFun is powered by your wisdom!
My tip: Share that wisdom (and/or knowledge).
I saw an ad on eBay for 10 fresh caracalla seed. The price was $5.00 and shipping was free. I think that's a pretty good deal. I ordered the seed.
I am hoping my vines will make their own seed, but it's getting late in the season and they haven't started, yet. And too, I've rooted cuttings as further insurance I won't have to pay a ridiculous price for seed next spring.
Most all sellers of this seed claim the seed to be very rare. They use this claim to justify charging $10.00 for 4 or 5 seeds, plus shipping. Makes you wonder how a particular seller on eBay can sell 10 seeds for $5.00 and free shipping. So much for the seed's rarity.
It's true, left to Nature, the caracalla flowers are rarely fertilized and so the plants normally don't set seed. This is due to the complex morphology of the plant, itself.
My thinking is that for someone to be able to offer the seed at a low price, they must have access to a large quantity of seed. With further thinking, I've concluded someone is giving Nature a helping hand with the fertilizing of the flowers to insure an abundant supply of seed.
Here is where I need the help of someone, or more, who studied botany in high school. I didn't, and I am ignorant on the subject. I am trying to hand fertilize my caracalla flowers and don't know if I am anywhere near to doing it correctly.
In picture 1, I have torn away most of the flower's petals, revealing the terminal end of the corkscrew. The bulb like affair houses the female structure as well as the male structure with pollen sacs.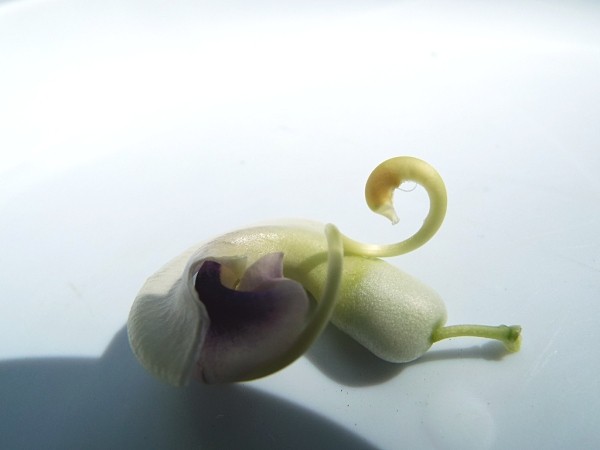 In picture 2, I have stripped away the outer corkscrew tube revealing the female pollen receptor (F), and the male pollen sacs (M).
In picture 3, as the female part becomes receptive to the pollen, the receptor is forced through the end of the corkscrew and out into the open, where it should be available to the pollen for fertilization, But as you can see, the pollen sacs are still enclosed in the terminal sac.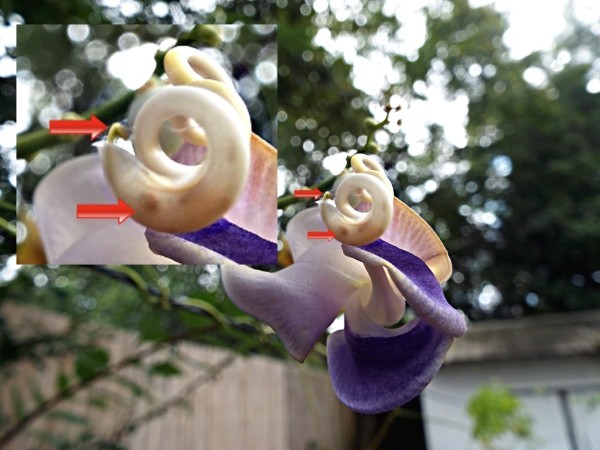 In picture 4, I am taking a pollen sac (PS) from another flower, and gently rubbing it against the female receptor (FR).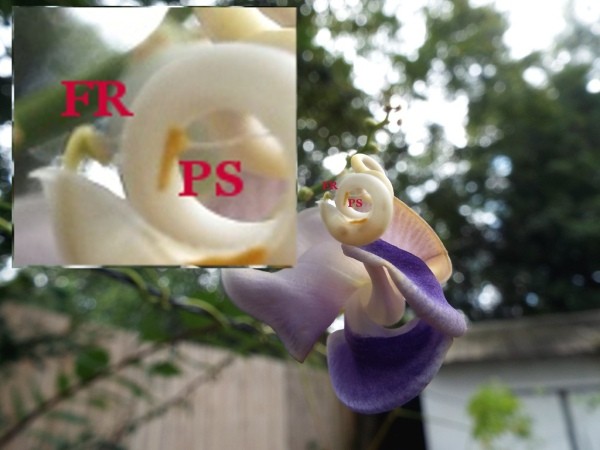 Please, someone who knows anything at all about plants, tell me if you think I am doing this right. Yes, this plea is from someone who has cross bred iris, gloxinia, and other flowers, but the anatomy of this flower has me stumped.
Even an educated guess would be appreciated.