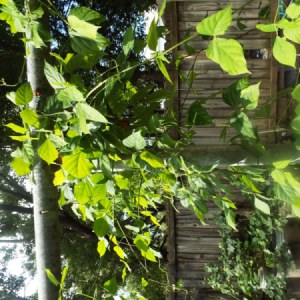 This vine has the common names, corkscrew vine and snail vine, among others. These two names are rather suitable as the plant bloom is a bit reminiscent of either. However, the corkscrew vine and the snail vine are actually two different plants. The corkscrew vine being 'Cochliasanthus caracalla', and the snail vine being 'Phaseolus giganteus'.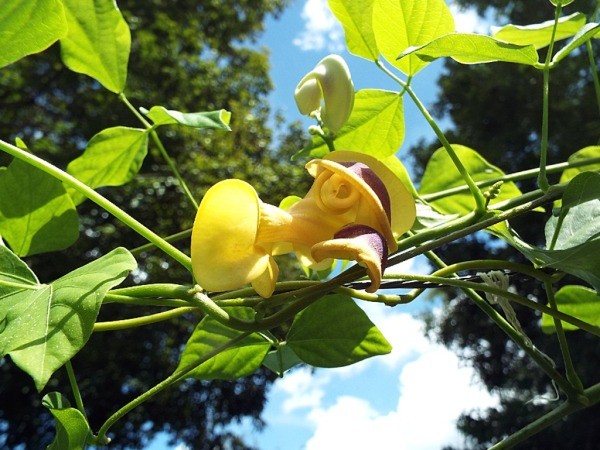 The plant's botanical name is in question. We do know the plant is in the Fabaceae (bean) family. Taxonomists like to move it in and out of the genus, Vigna.
For now, I will settle for the name, Cochliasanthus caracalla. Cochlia referring to the bloom structure resembling an inner ear structure, the cochlea, and 'caracalla' being derived from the Portuguese 'caracol', meaning snail. 'Caracalla' is easy to say, remember and spell, and since no other plant has this name, it will be my choice of names for this plant. It is said that Thomas Jefferson called the Caracalla, 'The most beautiful bean in the world'.
The Caracalla originates from Central and South America. The often twelve inch clusters of flowers have a fragrance not unlike that of the hyacinth. The vine is said to reach a length of twenty-five feet. The plants I am growing are young, just beginning to bloom, and they have far surpassed that length.
This is my first time to grow Caracalla. The cost of the seed was prohibitive. I did yield to that cost, this year. The final cost for five seeds was about eleven dollars.
Seedsmen 'justify' that cost by reporting the 'rarity' of the seed. The truth is, one seed could easily produce hundreds of seeds. The seed are by no means 'rare'. Later this season, I expect to harvest many more seed than I could ever use. These seeds will be available for free to anyone who should want them.
The pictured bloom is just a few days old. The colors and configuration of the bloom change as it matures. I hope to be adding more pictures to this post as more blooms and clusters of blooms, develop.
This vine can be rooted from cuttings. This is good. I plan to take a cutting and grow it in a pot. I want to see how well it responds to heavy pruning. If it grows and blooms well as a potted plant, I may choose to always grow them that way, because....
I have nowhere to hang my clothes to dry. I have four clotheslines about 25 feet each. These four plants have overtaken all the lines. A small sacrifice, really, though. When that 100 feet are completely covered with 12 inch clusters of beautiful flowers emitting a heavy hyacinth odor, I will be glad to hang my clothes on a nearby tree.