I've done 5 posts on a certain vine and still don't know what to call it. I think it could correctly be called Cochliasanthus caracalla. The 'Cochliasanthus' alludes to the similarity of the configuration of the flowers to the cochlea, the auditory portion of the middle ear.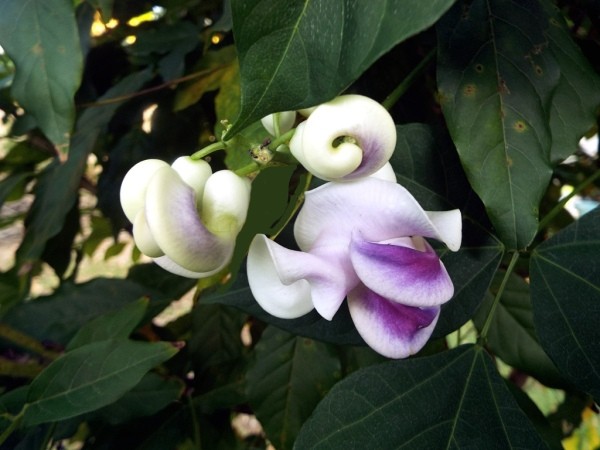 The cochlea is spiral shaped like a snail. That would account for one of the common names given to this vine, 'snail vine'. The shell of certain marine animals have this spiral configuration which would account for another common name for this vine, that being the 'shell vine'.
There is another popular common name for this vine, the 'corkscrew vine', although there is little likeness of the vine's flower to a corkscrew. 'Corkscrew' may be the most popular common name.
All the above names are well and good except they are also used to refer to another vine 'Phaseolus giganteus'. And with Wikipedia contradicting itself as to the official name of this vine, just what should the vine be called?
Taxonomists are now certain they have correctly placed this vine as Vigna, a genus of the Fabaceae family and have given its name as Vigna caracalla. I like this 'new' appellation because it is easy to pronounce and would serve well as both a common name and an official name. And too, when using it, there would be no confusion with that other vine, 'Phaseolus'.
So, fellow gardeners, what say ye? What are your thoughts on referring to this vine simply as Vigna? Not snail, not shell, not Cochliasanthus, and not corkscrew, just Vigna? I know old habits are hard to break, but don't you think 'Vigna' sounds so nice?
The above lengthy prelude serves as an introduction to the heart of this post, the wisteria serving double duty.
Last year, for the first time, I grew the Vigna vine. I let it sprawl on my clothes line. It was beautiful, but in short order, it covered the whole line. I didn't want that to happen again this year.
Having a young wisteria standard (tree form) in my back yard, I decided to keep the Vigna in a 5 gallon bucket and let it grow up and around the wisteria. Here is where the wisteria serves double duty. Not only will it be covered with its own blooms in early spring; in late summer and early fall it, (hopefully) will be covered with the blooms of the Vigna vine. So far, so good.
Here is an (obviously edited) picture of the vine in a bucket under the wisteria.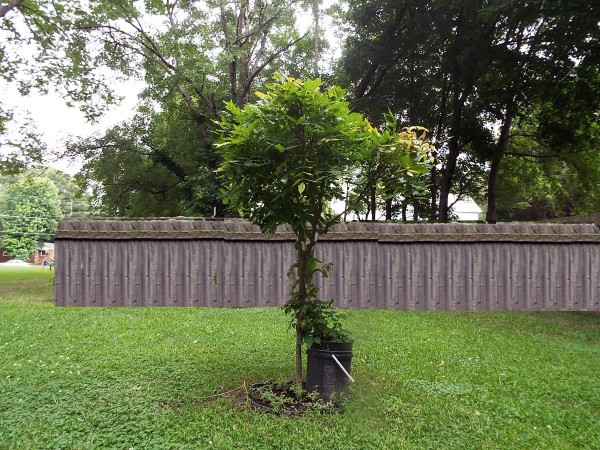 My Vigna has grown up the wisteria and has wrapped itself around the wisteria, several times. And as of now, September 27, it has begun to bloom. With the Vigna being such a prolific bloomer, and with having at least another full month of bloom time, I hope soon, the wisteria will be completely covered in Vigna blooms.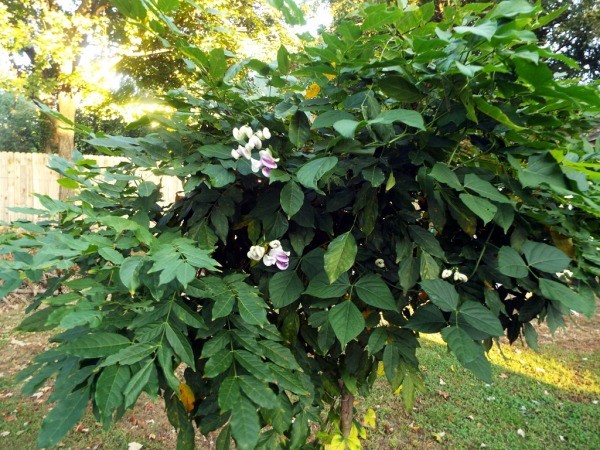 Do wish me luck with this little project, and if there soon is a nice display of Vigna blooms on the wisteria tree, I will burden my fellow members with at least one more picture. Yes!