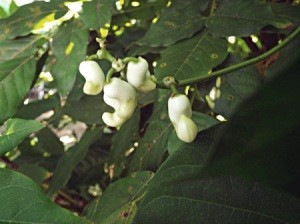 I've gotten some private messages asking for further information on the corkscrew vine (Vigna Caracalla). I'm making this post so all who are interested can share this information.
The Vigna blooms rather late in the season when grown in the U.S. This is understandable as the US is much farther north than the plant's native tropical habitat. For this reason, I overwintered a plant indoors, rather than starting a new plant from seed in the spring. My purpose was to see if starting with an established plant in the spring would give me blooms earlier than when starting from seed.
My findings: The established plant produced blooms no earlier in the season than when starting from seed. As of September 19, I'm seeing my first beginnings of a bloom. I am in zone 7b. Plants grown further south may produce blooms a bit earlier, and plants grown further north may bloom a bit later.
I don't think the length of growing time is the only factor here. I'm sure the amount of daylight hours and the incremental shortening of those hours, along with other factors, all play a part in when the plant blooms.
The blooms of the Vigna Caracalla are so beautiful and so unique, most people find the rather long wait to be well worth it.