EllenB
Gold Post Medal for All Time! 858 Posts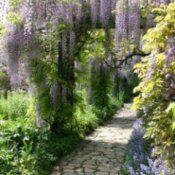 Few plants can rival the dramatic spring beauty of a wisteria vine in full bloom. Despite the showy flowers and delightful scent, wisteria plants have acquired a reputation for being difficult to grow. Don't be fooled. With the right growing conditions and some occasional pruning, wisteria is a beautiful, fast growing vine - and a worthwhile addition to nearly any garden.
Plant Characteristics
Popular for their long, hanging clusters of violet flowers, there are around a dozen wisteria species available to gardeners, including two native to North America. The most common types grown are the Asian species Japanese wisteria (
W. floribunda
), and Chinese wisteria (
W. sinensis
).
Japanese wisteria tends to have more vibrant color blooms and Chinese wisteria a sweeter scent. Both species need a large amount of growing space and look very similar in appearance. You can tell the difference between the two by the way they climb. The stems of Japanese wisteria twine around supports in a clockwise direction, while the stems of Chinese wisteria twine in a counterclockwise direction.
The Best Zones for Wisteria
Wisteria grows best in zones 3 to 9. Not all varieties are suited to all zones, however, so check carefully to make sure the wisteria you choose is a proven performer where you live. If you lack space (or the ability to erect a sturdy support structure), the smaller American forms of the vine, such as Kentucky wisteria (
W. macrostachya
) or American wisteria (
W. frutescens
) don't grow as quickly and can be good substitutes for smaller gardens.
Where to Grow Wisteria
Wisteria will grow in partial shade and marginal soils but performs best in sunny locations (6 or more hours per day) and in moist, fertile soils that drain well. Wisteria needs a large amount of growing space. These plants are vigorous climbers (growing 10 feet or more annually) and are easily capable of climbing to heights of 25 feet.
Once established, the Asian species can become invasive and difficult to get rid of - especially in the east. To help restrain the plant's spreading root system, wisteria can be planted in large containers buried in the ground.
Planting Wisteria
To plant wisteria, work the soil deeply (18 to 24 inches) around the hole where the vine will be planted.
Mix a couple handfuls of compost or well-rotted manure in with the original soil.
Set the plant on the ground at the same height it was growing in the pot.
Water in well and add a layer of organic mulch around the base of the plant.
Keep your newly planted wisteria watered well for several weeks after planting to allow it to become established.
Pruning Wisteria
Wisteria needs to be pruned a minimum of twice yearly to keep plants tidy and promote flowering.
1st-Summer Pruning (just after flowering): Cut off the tips of all of the side shoots as well as the tips of any new growth. Also, remove any suckers that appear at the base of the plant.
2nd-Late Winter Pruning: Cut the main stems back by about half. You may also shorten side shoots slightly; cut them back to only a couple of inches from where you see the flowering spurs (little pegs).
Training Wisteria
You never have to worry about over-building supports for wisteria. Mature vines are heavy and will require ample support. To train young plants to grow on a trellis or arbor, choose an upright stem to serve as the leader and secure this to the support. You can then remove some of the side shoots and train the remaining shoots to grow horizontally across the supports, or simply let them all twine across the supports naturally. Pinch off the main leader when it reaches the desired height.
Five Reasons Wisteria Fail to Bloom
One of the more frustrating aspects of growing wisteria is waiting for them to reach maturity and then watching them fail to bloom. Here are five common reasons wisteria fail to produce flowers:
Immature plants. Depending on whether you are starting new plants from seeds, cuttings, or young nursery stock, it can take 5, 10, or even 15 years or more before wisteria start to produce flowers. Start with grafted plants or those grown from cuttings that are known to have flowered relatively young. These plants usually flower much sooner than those grown from seed.
Too much nitrogen (or insufficient phosphorus). Some gardeners make the mistake of over-fertilizing wisteria to encourage them to flower. This can actually work against them, because excess nitrogen encourages the plant to produce foliage, usually at the expense of flowers.
Planting too deeply. Setting plants in the ground too deeply may result in a delay of flowering or prevent them from blooming altogether.
A lack of sun. Too much shade can cause vines to flower poorly. Although some types of wisteria may be root-hardy to Zone 4, many varieties won't bloom reliably there. In Zone 5, plants may sometimes fail to bloom after a severe winter freeze kills off flower buds.
You're being too kind. Pruning is key to getting wisteria to flower. You have to keep pruning all of those errant new vines that keep sprouting up. Depending on the soil the species you're growing, and environmental conditions, you may need to snip shoots as often as every 4 to 6 weeks.
Growing Wisteria from Seed
Wisteria plants are often started from layered cuttings, but they are also easy to grow from seed.
When the seedpods turn brown in the fall, remove the seeds and allow them to dry.
Store them in the refrigerator until spring.
In the spring, sow seeds directly in the ground (or in containers) after soaking them in water for 24 hours.
It's important to note that wisteria grown from seed may not resemble the parent plant in form or color.
They will also take longer to reach flowering size - anywhere from 10 to 15 years.
Read More

Comments

This is a catch all area where I mix my soil. It seldom gets organized. So, forget about the junk. I want to draw your attention to something very interesting in this picture.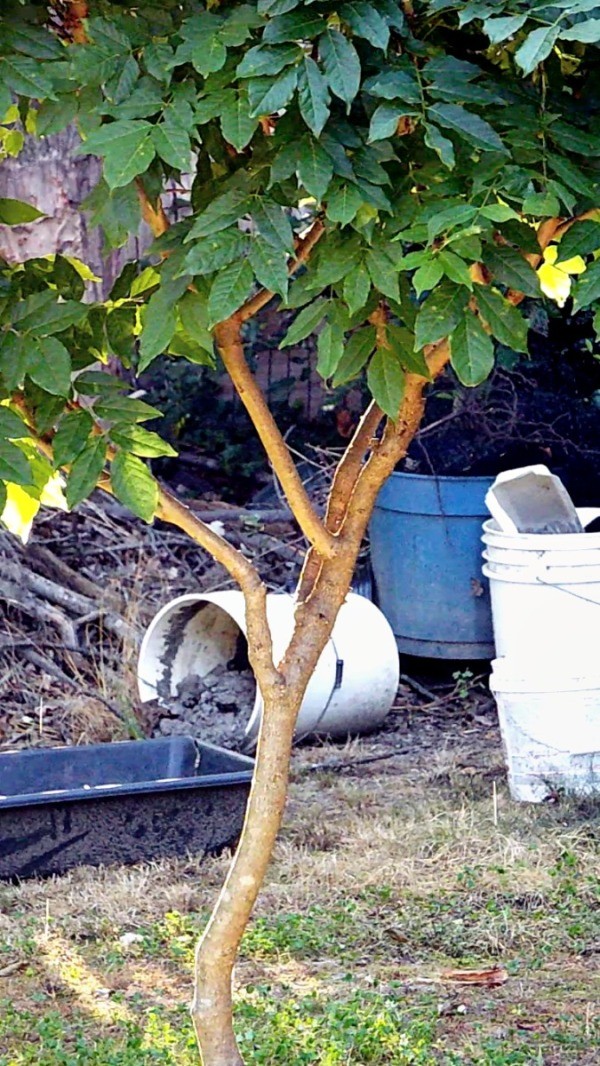 This morning, I noticed something strange going on with this wisteria vine I've trained into a tree. It appeared to be weeping. I watched it for about 5 minutes and decided to get a picture.
I knew I couldn't get a still shot that would be any good, so I got a minute of video and copied a frame from it showing several drops of water(?) in mid air.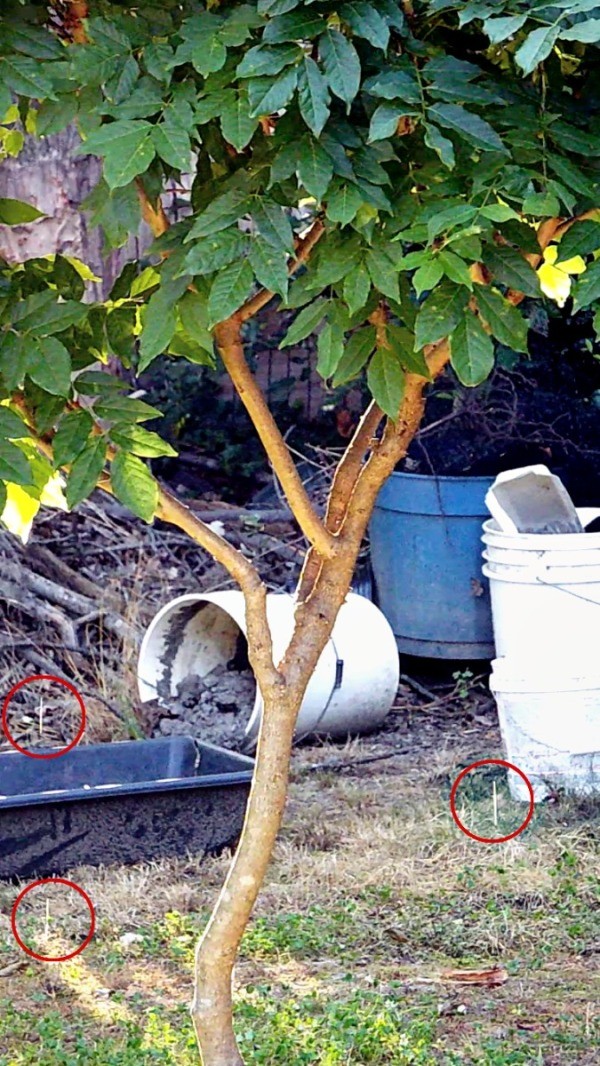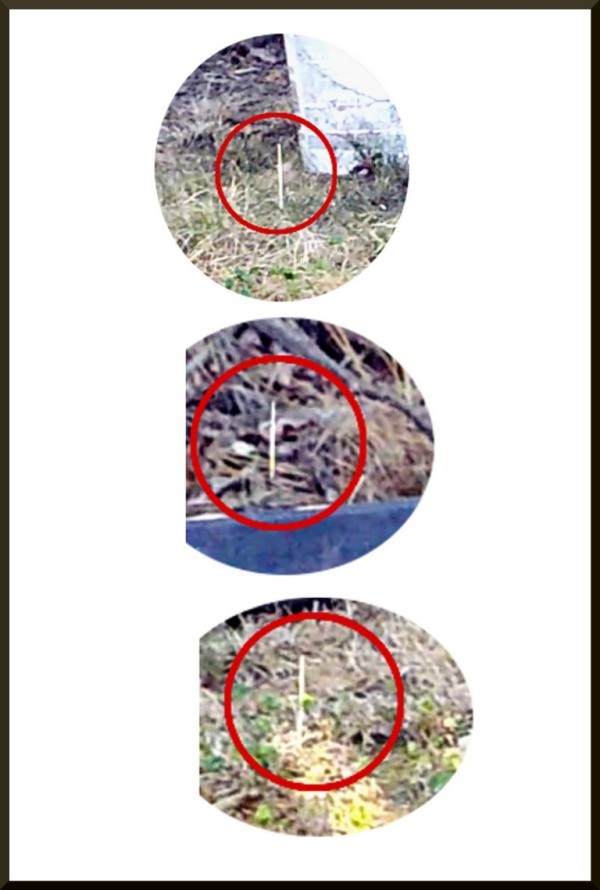 I checked back after writing this post. The sun was higher and the wisteria had stopped 'weeping'. I will check tomorrow at the same time to see if the phenomenon happens, again. Out of curiosity, I will send pictures to my ag agent, hoping he has an explanation.
My question: Has any TF member ever heard of a wisteria 'weeping'? It may be commonplace and something I just missed. My aglaonema (Chinese evergreen) weeps all the time (the droplets just don't drop to the floor).
Answers

June 17, 2018
0

found this helpful
Best Answer
Well, the party's over. Fun while it lasted. I went out this morning, thoroughly hydrated the tree and placed a black tub under it Ten minutes later, I cut some runners out of the top. I waited. Within 5 minutes the wisteria was dripping.
The drops had no taste or color. They were just like water.
I looked where I made the cuts and saw 'water' oozing out. I believe this 'water' is technically different than sap. I will ask my ag agent about this.
I suppose in another setting, insects large enough to make cuts as large as I made, could accomplish the same effect.
Phooey!
Now, what if I had added purple food coloring to the water I used to hydrate the wisteria. Do you think I could have invited the neighbors over to watch my tree drip 'purple rain'?
Eat your heart out, Michael!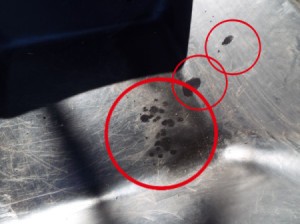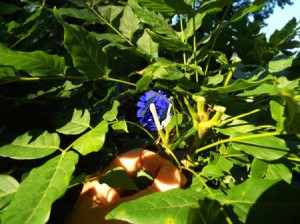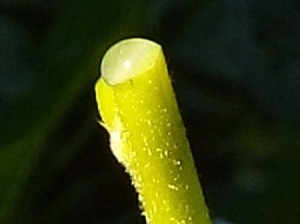 Answer

this Question
How do you plant wisteria with just a dry root?
By db

Answers

April 18, 2012
0

found this helpful
Not sure what a 'dry root' is, although the words make me think of a piece of the plant that's been removed from the mother plant and then permitted to dry out-not such a good mental image of a plant that can survive, sorry.
However, if I'm am misunderstanding, and you have a viable plant part known as a whip, simply plant it so the root parts are at least 6" under good quality soil.
Then stake, mulch, and water it in well. You can apply a rooting hormone available in most garden centres to encourage root growth, and feed specifically formulated for wisteria at the same time. Keep the soil moist but not soggy the first spring and summer it's in the ground.
And then wait about five years for the whip to become a blooming shrub.
You'll wait about ten years for it to climb as high as a roof or along a fence, and about twenty before the runners become woody and thick enough to pull down said roof or fence:)
Or you can buy a potted wisteria that is already blooming. Transplant it and stand back, although it may not bloom the first season after transplanting.
Wisteria is one of the plants I miss most about the Deep South, crepe myrtle is the other.

May 3, 2012
0

found this helpful
Frugalsunnie is correct, "You'll wait about ten years for it to climb as high as a roof or along a fence, and about twenty before the runners become woody and thick enough to pull down said roof or fence:)"
Remember to sink 4x4 or even 6x6 treated posts in the ground with concrete to withhold the weight. DO NOT think you are going to buy one of those store bought vine climbers or trellises for one of these. My wisteria is heavy and the only part of my arbor that is holding up to it are the posts, which are 6x6. I am getting ready to cut the top of this wisteria and rebuild the arbor. I would recommend buying cedar planks (boards) and building your own trellis for a wisteria.
Answer

this Question