My Wisteria won't bloom.
Hardiness Zone: 6b
By Donna from Brockton, MA
Answers
June 26, 2009
0

found this helpful
Best Answer
Speaking from experience....
We had wisteria for several years that never bloomed, it grew like crazy but never bloomed. We were told to put a certain fertilizer on it. It was 18-46-0 and potash. I do not remember the portions and when we did it but it did work. I am sure a greenhouse could tell you more.
August 19, 2013
0

found this helpful
Best Answer
I've been told, that wisteria loves abuse. It's the vines with a purple hue that are the ones the will make the flowers. In the later part of summer, just strip the leaves off. The green part of the vine, are never going to bloom, so I just cut them off. It must work, as this is what mine looked like in early May '13.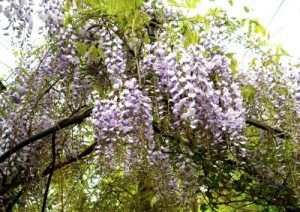 Answer

this Question

...
June 23, 2009
0

found this helpful
We have had huge, healthy wisteria vines for nearly 10 years but have never seen a flower on any of them. What can we do to get them to flower?

Hardiness Zone: 7b

Nancy from Hyannis, MA

Answers:
Wisteria Vines Don't Flower
Do a root trim. Use a sharp shovel and cut straight down making a circle around the base. Use the branches as a guide to how big to make the circle. It should be the same distance around as the branches are long. An elderly woman in LA told me this and it worked very well for me. (04/24/2008)

By Patti
Wisteria Vines Don't Flower
Hi, Nancy. Years ago in Dodge, TX (yep, a real Texas town) my friend did the major root trimming on her wisteria. Wow, what a difference. For years after that, this incredible plant flowered like it was making up for lost time.
Peace and Blessings,
Joan - Dilley TX (05/02/2008)

By Joan Greer