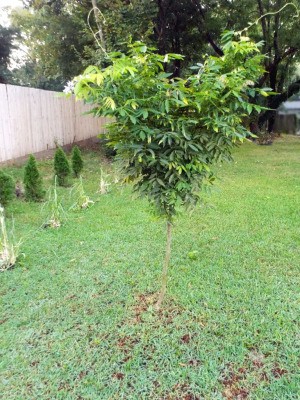 Some varieties of wisteria have a raceme (a particular type of bloom), that can be as long as 30 inches and covered with over a hundred flowers. The variety I'm growing has a raceme averaging 12-18 inches and is covered with many fully developed flowers. So why would I post a picture of what appears to be a little, underdeveloped raceme? I thought you'd ask.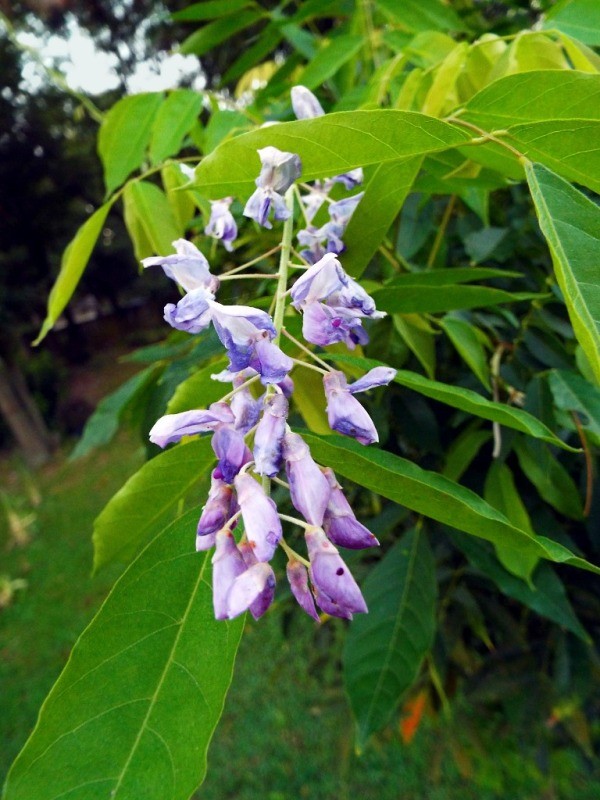 About 21 years ago, I was walking down a street where wisteria were growing to one side. They had bloomed earlier and now were dispersing their seed pods. The walk was littered with hundreds of them. I collected a few and brought them home.
I planted several seed in small pots rather than in the open ground. My plan was to grow these wisteria as standards (having a tree like, rather than running vine, habit). I wanted to keep them small and I knew the small pots would help keep their size in check.
Over the years, the plants grew to a height of about 6 feet and stayed at that height for several more years. I thought that by the fifth year I would have seen blooms. My heart would break a little each year as wisteria bloom time would come and go and there were no flowers.
After 18 years of caring for these plants and still no blooms, I removed them from their pots and planted them in the ground where they grew vigorously. Even with such vigorous growth, years 19 and 20 came and went, and still no blooms.
Today, I was watering some newly planted Pampas grass when something caught my eye. What!? Could this be? I saw a bloom on one of my wisterias. Small and underdeveloped, but a bloom.
Oh, happy day! Twenty-one years of waiting was over. To make this moment even more joyous, was the fact that the bloom appeared when it did. It is now autumn. Normally, wisterias are one of the first plants to bloom in early spring.
Unchecked wisteria growing in the wild can attain a height of a hundred feet or more and be somewhat invasive, almost like kudzu. I didn't have room for, nor did I want a plant of that size. Checking their growth in pots was a good idea, but I overdid it, hence the 21 year wait. Had I grown them in 5 gallon buckets, I probably would have had blooms within 5 years.
My tip: If you plan to grow wisteria from seed (or small cuttings), and have them develop into standards, be sure to plant them in at least 5 gallon buckets. An exception for planting them in small pots would be if you want a bonsai. And truth be known, they make some of the most beautiful bonsai you will ever see.
Come this spring, I expect these wisteria to be covered in blooms. In following years, I expect them to take on a beautiful appearance, not unlike a large and ancient bonsai.
Twenty-one years, people, twenty-one years. Be happy for me!