June 15, 2018
0

found this helpful
Some wisterias are known as weeping wisterias, so I would say yes
June 18, 2018
0

found this helpful
Hello Judy ! " Weeping" added to the name of a plant (usually tree) characterizes the future shape of the plant, like the weeping willow for example. It doesn't mean that the plant will drop sap.
About wisterias, turning a wisteria into a weeping wisteria is very difficult and demands a constant watch for the plant to keep a weeping shape. Proper name should be : "weeping wisteria after years of hard work'' but it wouldn't sold easily under this name !
Thanks for your comment, Catherine. I have trained two wisterias into standards and have enjoyed them very much. Just going this far is very demanding. Though it would be even more work, I might consider making one a weeping wisteria.
I can't imagine how this is done unless weights or some kind of restraints are applied to the branches to keep them bent downward. Do you have links to any articles on how to train a wisteria into a weeping wisteria?
What a lot of people don't understand is that the wisteria is a huge vine, sometimes 50 feet or more; and while it has beautiful flowers, its size would prohibit it being grown in most people's lawn or garden.
Training the wisteria into a standard or weeping shape causes it to require very little space. People can then enjoy the beautiful wisteria flowers in their lawn or garden without the 50 feet of vine.
And you are so right about this requiring a lot of work. During the growing season, I find it necessary to do some pruning almost every day. Here is a picture of one of my wisteria standards. It's still quite young.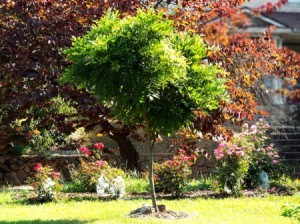 And for people who don't have space for a wisteria standard, they can still enjoy the wisteria blooms at their homes.
If you can devote nearly a lifetime to its creation, you can have a wisteria bonsai. Without question, one of the most beautiful things in all the world
See this:
www.absolutebonsai.com/.../536807_432965890084735_1619810685_n...
June 16, 2018
0

found this helpful
I would worry about a pest as well. If it were natural, the tree would not be dripping from the same place each time, it would be all over. Did you look to see if you could find a place where it was coming from? Everything I saw online only talked about weeping or dripping in regards to an insect or infection.
Let us know what else you find out. Very interesting.
June 16, 2018
0

found this helpful
Thanks for the input, you two. I had plans to check the wisteria this morning but forgot.
It shows no signs of insect infestation and is extremely healthy. Every day I have to cut several 1-2 foot runners out of the top. That's right, every day. The top is quickly growing beyond my reach.
I really doubt what is dripping is sap. It appears to be much too thin for that. And I see nothing on the ground below. Sap would not evaporate that quickly.
Lest I forget, I will look tomorrow morning to see if I can pinpoint the source. If it weeps again, I will try to catch some on a pane of glass.
And I plan to send my ag agent a link to the video. Surely he has some ideas.
Yes, this is interesting, and I am curious.
June 16, 2018
0

found this helpful
Y'all know somethin'? It just occurred to me that I could be causing this. If I am not mistaken, earlier that morning after seeing drops come from the wisteria, I had broken off a lot of runners out of the top.
Maybe the wisteria is ejecting water from the site of the injury. I'm going to really hydrate it tonight and break off runners in the morning and see what happens.
I might be wrong, but...nothing ventured, nothing gained.
June 17, 2018
0

found this helpful
Best Answer
Well, the party's over. Fun while it lasted. I went out this morning, thoroughly hydrated the tree and placed a black tub under it Ten minutes later, I cut some runners out of the top. I waited. Within 5 minutes the wisteria was dripping.
The drops had no taste or color. They were just like water.
I looked where I made the cuts and saw 'water' oozing out. I believe this 'water' is technically different than sap. I will ask my ag agent about this.
I suppose in another setting, insects large enough to make cuts as large as I made, could accomplish the same effect.
Phooey!
Now, what if I had added purple food coloring to the water I used to hydrate the wisteria. Do you think I could have invited the neighbors over to watch my tree drip 'purple rain'?
Eat your heart out, Michael!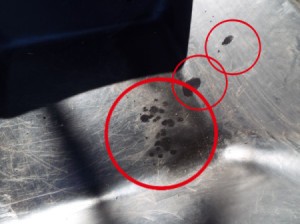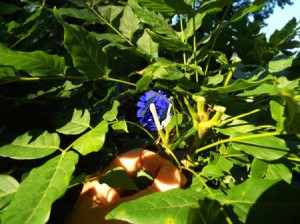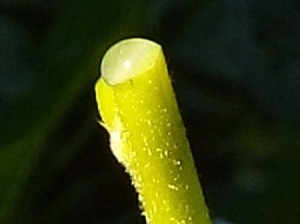 You know, most all the sap I've seen is thick, gummy and resinous. It can be the dickens to get off your car without harming the finish. That's why I felt this crystal clear, thin as water liquid was technically not sap. Well, here is what one of our state's ag agents has to say about this:
Doug:
Yes, I would say it is sap you're seeing - the liquid substances that flow through the xylem and phloem of the plant. One thing to be mindful of that I read is the sap can stain clothes permanently, so work in old clothes or watch out for getting it on clothing.
Kira
~~~
Take it from an old sap. It's never to late to learn. (sniff)