My son does all the flower work. He brings joy to all who pass and see the yard.
By Frank from Cudahy, Wi.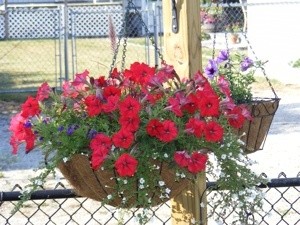 August 25, 2009
0

found this helpful
Your baskets are pretty. Thanks go out to your son. It won't be long though and the fall weather will be upon us so enjoy while you can.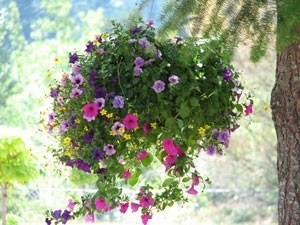 Hanging Flower Basket
This is a picture of a hanging basket in my yard, hope this is what you want for your May flower edition. I have the picture as my wallpaper on my computer screen so I can see it even when I am in the house.
By Phyllis from Roseburg, Oregon
Answers:
Hanging Flower Basket
I just loved your hanging basket. I am still to attain to that kind of master piece in my garden, LOL Hope you don't mind that I found it so lovely I also used it as my desktop background. Regards, Paige (04/30/2008)

By Paige
Hanging Flower Basket
You're so fortunate to be able to have flowers this early and to be able to have them at all! I live north of Elgin and we had SNOW this morning!! (04/30/2008)

By Glenn'sMom
Hanging Flower Basket
What a "beautiful" site for you to be able to see each day. Thanks for sharing. (04/30/2008)

By Debbie