Protecting Pots and Planters Over Winter
Solutions
Share on ThriftyFunThis guide contains the following solutions. Have something to add? Please share your solution!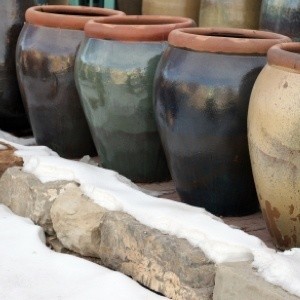 Buying pots and planters can be expensive, especially if you find yourself having to replace them every few years due to breakage. Like some plants, not all pots and planters are hardy enough to survive the winter if left outdoors. If not properly protected, many will succumb to the freeze/thaw cycles of winter and end up cracked and broken by spring.
Pre-Winter Clean-up
The first step in winterizing your pots and planters is to give them a good cleaning-unless of course, they remain planted. Start by removing any remaining plant material and tossing the old soil into your compost pile. Clean the insides thoroughly by scrubing them with a solution of 1 part bleach (preferrable non-chlorine) to 10 parts water. Once the empty pots are completely dry, they are ready for winter storage.
Protecting Them Over Winter
Ideally, all pots and planters should be stored indoors over the winter. Even if they are made from materials that can withstand the elements, the extra protection will likely add years to their life. If left outdoors, always flip empty pots over (drainge holes up) and use bricks, pot feet, or pieces of wood to keep them from coming into contact with the ground. Pots that remain planted are often too large to move. These should be wrapped in layers of bubble wrap to help insulate both the pot and the roots of the plant.
Pots and Planters Needing Extra Protection
Terra cotta pots are made from clay, which is like a sponge when it comes to soaking up water. Leave these pots outdoors and they will almost certainly crack when temperatures drop below freezing. Glazed terra cotta pots are nearly as problamatic--especially if only glazed on the outside. Other porous materials include cast stone, glass, and ceramic. If you absolutely can't bring these pots indoors, you'll need to get them off the ground and cover them with a waterproof tarp to prevent snow from acculuating on them. Group them together and place them along a south facing wall under an overhang. Keep in mind that changes in temperature and humidity may still wreak havoc on them even if protected.
Materials That Can Withstand the Elements
Pots and planters made from wood, cast iron, polyuyrethane, fiberglass, and non-porous plastic composites can be safely left outdoors over winter. When shopping for plastic/composite containers, always look for materials that are UV resistant. Over time sunlight degrades plastic, causing it to fade in color and become brittle and crack.
Pots And Planter Labeled "Frost-Proof"
Some pots and planters are labeled by the manufacturer as being "frost-proof." Unless the label clearly states that they are guaranteed to withstand specific sub-zero temperatures, it's best to assume the materials are actually only "frost-proof" in relatively mild climates like Texas, Arizona, and parts of California.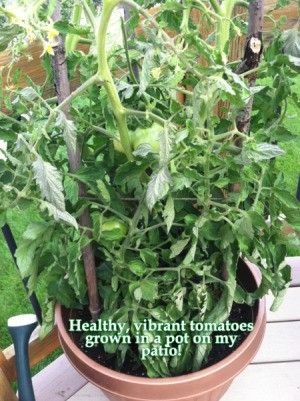 I love my flower and vegetable pots. As I've gotten older, growing my favorites in pots helps make gardening easier and lower maintenance. I like to buy used and even damaged pots at garage sales, cheap, and restore them with glue, paint, and TLC. Sometimes I've acquired them free next to dumpsters, and in the "free" pile at sales.
In the fall, it is best to remove the dead plants and roots to avoid disease. Then empty the soil into a compost pile, and store the pots in a covered area that will not be exposed to harsh weather. If you do not have a compost pile or bin, you can simply create a pile of the soil from all your pots in an out-of-the-way area of your yard; away from the house. Cover it with a thick layer of cut grass, and in the spring you will have moist, rich soil for filling your pots again.
You save on replacing the pots, have rich soil to reuse and save on buying potting soil. This way you build up a nice supply of resources for summer blooms and vegetables. Simple and frugal.
By Cindy S. from Spokane Valley, WA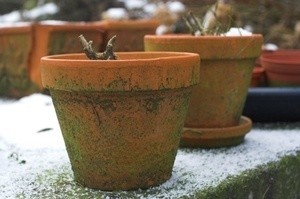 No one enjoys lugging tender potted perennials indoors and out each fall and spring, least of all your back. The good news is, if given the proper protection, many (although not all) potted plants can be left outdoors successfully over the winter. Here are a few different techniques for providing winter protection for your hardy outdoor potted plants.
Healthy Plants Overwinter Better
First things first-healthy plants overwinter better. Make every effort to see that your plants are going into the winter in the healthiest state possible. Continue watering well into the fall. Cease fertilizing after mid-summer so plants have time to gradually shut down in preparation for winter. Once the first hard frost has cost the plant most of its leaves, you can start the process of protecting them for the winter.
Cluster Together and Insulate
Large planters clustered together in a sheltered location (under an eave, or up against a south-facing wall of your house) will benefit from the insulating effects of togetherness. Use old nylon stockings or soft rope to tie back and secure branches. Wrap the pots loosely (from top to bottom) in a cage of chicken wire, making sure the cage is tall enough to adequately cover the entire plant. Fill up the column with a thick layer of leaves or straw, working it carefully around all of the branches. For extra support, secure the cage to the ground with metal stakes. If your plants are in terra cotta or thin plastic pots, you may want to wrap the sides of the pots with several layers of bubble wrap for added insulation.
Build a Coldframe
Coldframes are easy to make and create useful temporary winter shelter for small potted plants. Simply select a sunny spot and arrange several bales of hay or straw to form four walls. Top the walls off with an old window, plexiglass, or heavy duty plastic. Now keep an eye on the weather-especially into late fall and early winter. The air inside a cold frame heats up fast, especially under glass. Be prepared to prop it open even in the winter to give your plants some air.
Construct Screens
In open, windy areas, windbreaks made from burlap, heavy duty tarp or canvass can provide young trees and shrubs valuable protection from sun scald and whipping winter winds. Create a simple screen by stapling burlap to stakes pounded into the ground around the plant's perimeter.
Sinking In
Take advantage of the insulating properties of the soil by sinking plants (pot and all) into the ground for the winter. Vegetable gardens work great for this because the soil is already well worked and friable from the past season. Dig a hole large enough to sink the entire pot into the ground. Then add a heavy layer of straw, shredded bark, or leaves over the top of the plant. The soil will protect the roots, while a heavy layer of mulch protects the top of the plant.
Tipping
This is perhaps the most extreme method, and one that is recommended for half-hardy plants that are being grown outside of their recommended hardiness zones. Similar to sinking in, an empty vegetable garden works well for this method. Dig a 14 to 16 inch-deep trench, large enough so that the plant (pot and all) can be laid on its side (tipped), and lightly re-covered with soil. Gently tieing up the branches of the plant will make for easier tipping. Once in the trench and recovered with a light layer of soil, the plant's branches and stems should be covered with loose mulch and held in place with burlap for the season. In Minnesota, a similar technique (sans the pots) is used to protect roses.
Related Content