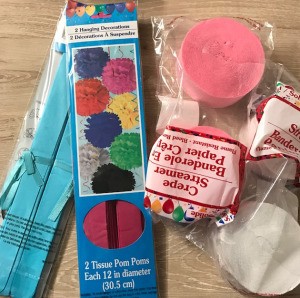 If you need affordable party hanging decorations, I would highly recommend Dollar Tree. especially if you're looking for the trendy tissue pom poms. You get 2 count and a generous size, 12" for only $1, that is just 50 cents each. There's a good amount of colors to choose from: magenta, blue, yellow, red, black and white. These decorations would be perfect for bridal parties, bachelorette parties, weddings, engagement parties, birthday, Valentine's Day, Christmas, essentially any party!
Compared to Target:
3 count and only 10" = $3.00
Compared to Michaels:
1 count and 16" = $2.29
3 count and only 9" = $2.79
Although these pom poms are easy to make with tissue paper, the cost of buying each tissue paper individually and then making it (takes time) would cost more money, and more time when you could simply just buy it already made!
Also streamers are $1 each for 2 count as well!