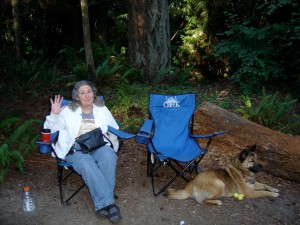 Every March 9th is Founder's Day at ThriftyFun. That's the day we remember our founder Susan Sanders-Kinzel. This year would have been her 73rd birthday.
Susan was an amazing person. She was passionate about beadwork, leatherwork, and writing folk songs. She loved working in her garden. She adopted dogs who needed to be rescued. She had too many cats.
Above all, she was frugal, always making do with what she could. Over the years she helped run flea markets and designed websites for many local businesses. She wrote a book about coffee roasting at home. Even into her sixties, she'd be up on the roof of her house cleaning off the moss or pine branches after a windstorm.
For all of us here at ThriftyFun, her passing was more than personal since we are all family. This site was founded by four of her children, Jessica, Fletcher, Lewis, and Stella. Through the years, we've had help from our husbands and wives, parents and children, and some very good friends, but the core of our company has always been family.
Our passion for ThriftyFun, and all our sites, comes from living out Sue's vision of a community where people could share their family recipes and could help each other out with tips and advice. For over twenty years, we've tried to carve out this space.
Thank you for being a part of our community. We couldn't do it without you all.
Love,
Fletcher, Jessica, Stella, and Lewis