EllenB
Gold Post Medal for All Time! 858 Posts
If you have started plants from seed this year, you've worked hard to provide your seedlings with the right light, moisture and temperature. They're green, growing vigorously and you're proud of them.
Unfortunately, because you've always done everything for them, they aren't prepared for the real world. So before you transplant them into the outdoor environment of your garden, show them some tough love and harden them off.
The science behind hardening-off is pretty simple. In some ways it seems analogous to child psychology. By starting your seeds indoors and spoiling them rotten with the perfect growing conditions, they grow up unprepared for the real world and fail miserably at adapting to live in the garden.
Movement & Moisture
To survive and thrive in the sometimes harsh environment of the garden, your little seedlings are going to have to develop a thick skin. Under natural conditions, plants develop in environments where they are exposed to wind (encouraging evaporation) and fluctuating soil moisture levels.
In response to these conditions, they develop a thick "skin" (cuticle), by secreting a waxy substance to protect themselves from dehydrating. How much wax they produce (the thickness of their "skin") corresponds directly to how much moisture is available in their environment. They also develop more hardy stems in their efforts to stand strong against wind and rain.
Plants grown in a controlled and protected environment tend to be "thin-skinned" due to a lack of stimulation from moving air and having a constant supply of water.
Light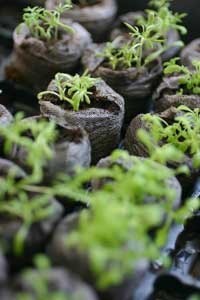 Up until now, your seedlings have enjoyed long days of cool, gentle fluorescent growing lights. They've had it so good, in fact, that their leaves have developed into thin, broad solar panels in an effort to maximize all of the available light. Place them outdoors like this, however, and they're in for a real sunburn!
Nothing shines brighter than the sun. Under natural growing conditions, seedlings compensate for the sun's intensity by developing thicker, narrower leaves that help protect them from becoming over-exposed. Although the size of your seedlings leaves cannot change, if given time, they will adjust their cellular structure to become thicker.
Temperature
Plants, like humans, need to produce thousands of complex bio-chemical reactions in order to grow and maintain their health. Warm temperatures cause these reactions to speed up, whereas cool temperatures cause them to slow down or stop them altogether.
Seedlings placed outside without the benefit of acclimating to the difference in temperatures is akin to you or I moving from summer right into winter without going through a fall adjustment period (some of us never adjust anyway). This can cause growth to become stunted and puts your seedlings at a greater risk of damage from insects and disease.
Preparing for the Great Outdoors
To prepare your young plants for the great outdoors, start hardening them off several weeks before you intend to transplant them.
You can start be gently tapping the sides of the growing trays to stimulate movement.
You can also simulate wind by turning on a ceiling fan or a small electric fan a few times each day. The fan should be on the lowest setting possible and should only cause a slightest movement of the plant's leaves. Leave it on only for a minute or two and remember to watch water levels carefully as the fan will also encourage moisture loss. A light brush with a feather duster or fanning them using a stiff piece of cardboard also will also work. All you want is a slight bit of air circulation.

Two weeks before you expect to transplant them, start to taper off on your watering. Watch this carefully. You don't want your young plants to wilt, just don't keep them constantly moist anymore-let them start to dry out a bit before watering.
At least 7 to 10 days prior to transplanting, start to set your seedlings outdoors. Start with shorts periods of time in the shade (a couple of hours), with gradual increases in time and exposure until they are spending the entire day in full sun.
If at any time during the hardening off process you plants start to show signs of stress, slow down the process down or keep the plants indoors and let them recover. Always be prepared to take your seedlings indoors if nights start getting cold. Transplanting should be done on an overcast day with beds that have been prepared in advance.
Comments
Read More

Comments