When I plant my seeds they grow thin and spindly to about an inch and a half then fall over and die. Any idea why?

Dave from UK
March 12, 2009
0

found this helpful
Best Answer
That's called 'damping off', caused by soil pathogens taking opportunity of wet soil conditions. Use the sterile soil and don't overwater, keep the soil fluffy and damp like chocolate cake. Then make sure they are in a south-facing windowsill for maximum light. Rotate the box every day.
March 12, 2009
0

found this helpful
Best Answer
It amazes me how little water seeds need to sprout. I often use a spray bottle filled with water to wet the surface soil until the plants get bigger. I have not always used sterile seed starting mix, and have had green mold or fungus grow on top of the soil. I scraped it away with my finger being careful not to disturb the seed sprout. It worked. When sprouting seeds with artificial light, I keep the light about 1 to 2 inches off the soil. When the seedlings are about to touch the artificial light, I raise the light another inch or two, and continue repeating this until it's time to transplant outside. Good Luck!
March 13, 2009
0

found this helpful
Best Answer
Dave,
In my early years of gardening the same thing happened to me. Then I educated myself by reading gardening books, articles found on the Internet, and talking with other gardening enthusiasts.
The previous posters were correct in saying your problem is a condition called "damping off". My suggestions to you are to:
1. Purchase a seed starting kit that has either peat pots or pellets, and a tray with a lid, or buy just a tray, peat pots, and seed mix. There are instructions on the Internet for making your own peat pellets.
2. Buy or build your own light rack. There are instructions on the Internet for building your own racks out of PVC. My very first rack was made from PVC.
3. Water your pots and pellets from the bottom. The seed starter mix and peat pellets will soak up the water from the bottom eliminating the damping off issue.
4. Purchase 2-lite shop lights from a local home supply store for your lighting source. Depending on where you live they cost between $8.00 to $10.00. Buy 2 Grow Light bulbs for Aquariums and Plants, or if that's too expensive, buy 1 cool light bulb and 1 warm light bulb. Keep the lights as close to the trays as possible until they germinate, then raise to approximately 4 inches above the plant at all times. Keep raising the light fixture as they grow.
5. Every other week I add a table spoon of Miracle Grow to 1 gallon of water and pour into the trays.
6. I also set up a fan on low speed for 20 minutes a day to blow over the seedlings. The fan creates a wind effect thereby causing the seedlings to grow thicker and stronger. Professional greenhouses do this, too. I hope some of this info helps. Have fun!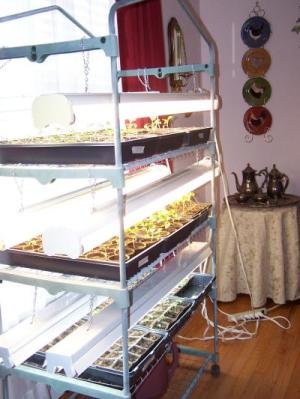 March 13, 2009
0

found this helpful
Best Answer
That's damp off -- and you can buy a treatment to put in the water you are using to control it. I used No-Damp - add drops in the watering can and it keeps it at bay. Damping is a fungus and can be in soil -- use a commercially prepared soiless mix for growing seeds, use No-Damp, make sure there is enough light and you should keep the loss of seedlings to a minimum. Good luck! It is so discouraging to lose plants - and can be heartbreaking when the seeds are very special, rare ones.