March 12, 2009
0

found this helpful
Best Answer
That's called 'damping off', caused by soil pathogens taking opportunity of wet soil conditions. Use the sterile soil and don't overwater, keep the soil fluffy and damp like chocolate cake. Then make sure they are in a south-facing windowsill for maximum light. Rotate the box every day.
March 12, 2009
0

found this helpful
Best Answer
It amazes me how little water seeds need to sprout. I often use a spray bottle filled with water to wet the surface soil until the plants get bigger. I have not always used sterile seed starting mix, and have had green mold or fungus grow on top of the soil. I scraped it away with my finger being careful not to disturb the seed sprout.
It worked. When sprouting seeds with artificial light, I keep the light about 1 to 2 inches off the soil. When the seedlings are about to touch the artificial light, I raise the light another inch or two, and continue repeating this until it's time to transplant outside. Good Luck!
March 13, 2009
0

found this helpful
Best Answer
Dave,
In my early years of gardening the same thing happened to me. Then I educated myself by reading gardening books, articles found on the Internet, and talking with other gardening enthusiasts.
The previous posters were correct in saying your problem is a condition called "damping off". My suggestions to you are to:
1. Purchase a seed starting kit that has either peat pots or pellets, and a tray with a lid, or buy just a tray, peat pots, and seed mix. There are instructions on the Internet for making your own peat pellets.
2. Buy or build your own light rack. There are instructions on the Internet for building your own racks out of PVC. My very first rack was made from PVC.
3. Water your pots and pellets from the bottom. The seed starter mix and peat pellets will soak up the water from the bottom eliminating the damping off issue.
4. Purchase 2-lite shop lights from a local home supply store for your lighting source. Depending on where you live they cost between $8.00 to $10.00. Buy 2 Grow Light bulbs for Aquariums and Plants, or if that's too expensive, buy 1 cool light bulb and 1 warm light bulb. Keep the lights as close to the trays as possible until they germinate, then raise to approximately 4 inches above the plant at all times. Keep raising the light fixture as they grow.
5. Every other week I add a table spoon of Miracle Grow to 1 gallon of water and pour into the trays.
6. I also set up a fan on low speed for 20 minutes a day to blow over the seedlings. The fan creates a wind effect thereby causing the seedlings to grow thicker and stronger. Professional greenhouses do this, too. I hope some of this info helps. Have fun!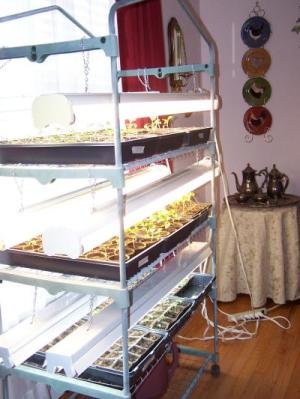 March 13, 2009
0

found this helpful
Best Answer
That's damp off -- and you can buy a treatment to put in the water you are using to control it. I used No-Damp - add drops in the watering can and it keeps it at bay. Damping is a fungus and can be in soil -- use a commercially prepared soiless mix for growing seeds, use No-Damp, make sure there is enough light and you should keep the loss of seedlings to a minimum.
Good luck! It is so discouraging to lose plants - and can be heartbreaking when the seeds are very special, rare ones.
March 11, 2009
0

found this helpful
Buy soil that is special for starting seedlings.
March 11, 2009
0

found this helpful
Kind of sounds like the seedlings are using up all their energy trying to reach a light source. Do you have them im a window sill? Or have a grow light for them? Are you maintaining a constant temperature? If you have them in a room that gets very cold overnight, that will do them in. If they don't have a light source like in a sunny window, they may be reaching for an incandescent light (a light bulb). Also move them away from the window at night. I've been in the UK and I know this time of year it is still quite cold at night.
Hope this helps somewhat. Good Luck. Pat T. in Nevada, US
March 12, 2009
0

found this helpful
I agree that it is likely "damping off".
March 13, 2009
0

found this helpful
Hi.. I agree...that is called damping off.
Damping off is caused by any one of several microscopic fungi which grow on the surface of the soil. Young seedlings are attacked and their stems shrivel at the soil line. They topple over. This usually happens within the first few days after they emerge. Use a new bag of seed starting medium/potting soil to start your new plants
Be sure not to over water the seeds and little plants, lightly moist but not drippy. Use a layer of sand on the top of the soil also helps, Also I have had good luck with a misting of
chamomile tea. I put about 5 or 6 tea bags in a 5 gallon bucket of warm water the day before I will be using it. I then put the tea/water mixture in a sprayer and mist it on the seedlings until they look sturdy. Hope that helps!
March 23, 2009
0

found this helpful
Hi All. I have been growing my own perrenials from seed (usually with success) for many years - however this year I have a real mystery going on. I typically use jiffy pellets to start my seeds and like always, germination has been excellent. I then transplant the seedlings (usually after three to four weeks) into 3" pots and later move outdoors to my greenhouse. However this year, when I take off the clear lids on the trays - my plants go from very vigorous to wilting and obviously distressed in less than 30 minutes! Just the act of uncovering them seems to stress them to the point that nearly 75-80% will die in a single day! What's up with this? I have been doing this for 15 years and the seeds come from a variety of sources - yet it is happening each any every time. I don't think temperature is the issue. It is almost like something in the air is poisoning them - and very quickly. I would really appreciate some input on what could possibly be causing this.
Will