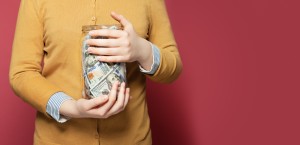 I enjoy reading the articles on ThriftyFun and have picked up many, many tips to help make my life easier and less expensive. I'm amazed sometimes at the ideas that are shared and are so easy to do.
The greatest tip of all I think and I'd like to share it, is mindset (attitude). I don't just think of ways and means to save a few pennies, I live it. When I shop I think "do I need it or want it?", "can I get this cheaper somewhere else?", "is this worth an hour's pay?", "will buying this interfere with my budget?", "what if anything do I have to forego if I buy this item?", etc. Fairly regularly, I wonder "do I even need to go shopping or can I somehow make do?"
I shop at thrift stores and always check out the reduced table at the grocery store. I'm resourceful and find alternate uses for things; I don't throw away good stuff because it doesn't interest me anymore or it's in the way; friends and I sometimes trade clothes or household items; I don't buy anything on a whim; I practice the money savings tips I've learned from others including here on ThriftyFun. Being otherwise would be like leaving the water tap running for no reason.
I'm a practical person by nature; however, I know that once in a while I need to be practical and spoil myself with a tidbit. It keeps me from becoming a boring tightwad and that's being thrifty too. I'm investing in myself. Occasionally I'll treat myself to a finer cut of meat or I'll pay the extra (as long as it's not exorbitant) price for something I really, really like or could use.
I enjoy being satisfied and content; life is so much more comfortable when I don't impose financial worry on myself. That would be like hitting myself on the foot with a hammer just because I can do it. Where's the good sense in that? I have strong morals when it comes to my character and those I associate with and I extend that to what I call my money morals. I don't steal from myself by being frivolous and unreliable. I'm my own biggest asset.
With this all said, I don't mean to come across as being a know-it-all by any means. I'm simply sharing what I think to be as my thrifty tip ... invest in yourself first and foremost and the rest will all fall in place. It won't always be easy or fun; prudence needs to be exercised every single day in little ways over a long time; but the return is tremendous and feels so good.