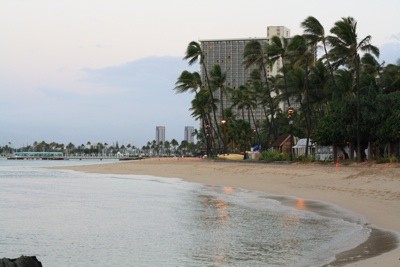 These are some frugal ideas you can use while visiting Hawaii and still enjoy your vacation without paying as much. My daughter who was about 18 at the time, and I took a trip to the Island of Oahu. We stayed in a small room close to the International Market. It was only a few blocks up from the beach and because of this we saved money.
We ate a lot of our lunches at their local McDonalds and saved our money for a very nice entertaining Luau. We received a free breakfast from some company who had us sign up for just 3 of their tours which were very reasonable. My daughter took the snorkeling trip one morning and I took the trip in the yellow submarine. We took the Grand Island Circle Tour and the Pearl Harbor/City Tour learning many things about Hawaii.
We visited the International Market, the Hard Rock Cafe, the Ala Moana shopping center and the Zoo. There were free shows with dancing and singing as we walked along the hotel's on the beach side. What Fun! We saw lots and saved money.
By Jackie from Enumclaw, WA
Read More

Comments

My husband and I will be celebrating our 25th anniversary this summer. We would love to go to Hawaii; but don't know exactly how to proceed to make this happen. What are reliable websites, etc. that would lead us to fantastic deals? Some advice on how much to save for? Thanks.
By Kim
Answers

February 20, 2010
0

found this helpful
Three of the most common travel web sites are Expedia.com,Orbitz.com and Travelocity.com.
Also if you are a member of AAA you can visit their office for help and also pick up travel books and maps.
We use one of the named three to book our flights, car rental and hotels. Good luck.

February 20, 2010
0

found this helpful
I should also have added how we book a flight. You need to know what carriers go to Hawaii. Last time I went I flew to Chicago and took a direct flight to Hawaii on United. However, you want to go to the airlines webb site and book your flight over the webb. You will be given the flights numbers,leaving and return times and cost.
Then when you go to the airline you insert your credit card into the machine they have at the counter, follow the prompts and your boarding passes are printed out.
Then you have your bags checked and you taken them and leave them with the TSA people who will check out the bags and have them taken to your plane for loading. The airline have people there to help you out with questions and to show you how the system works.

February 20, 2010
0

found this helpful
I booked (2) Rt Flights and (8) days hotel in Oahu a couple of years back for a ridiculously cheap price. First you have to book as far in advance as you can. I booked (9) months in advance for a convention. The Hotel I selected was a block off Waikiki Beach and 1/3rd the price of the ones right on the water. We didn't book a car unless we needed one during our stay and actually never did. Google up the island and each has it's own web site where I found many great deals.
I also use a web called www.travelfleamarket.com. It's a dump site for places like Orbitz and Expedia for seats they purchased and didn't sell. I also search on Tuesday nights after midnight which is when all the airlines and booking sites dump what they need to get rid of. Good Luck. It will be the trip you will never ever forget. Darlene

February 21, 2010
0

found this helpful
This last year I found a great deal at Hotwire.com. My husband and I go to Hawaii every summer for our anniversary and I was able to get tix for half the price we normally pay! Have a great time!

Maryeileen
Bronze Request Medal for All Time! 59 Requests
February 25, 2010
0

found this helpful
AAA if you're a member, (if not, you can join) or a local travel agent. Travel agents do not charge you, they are compensated by the airlines and hotels, etc.

February 25, 2010
0

found this helpful
Try Holiday Travel. They aren't the cheapest but they take care of your flight, hotels, luggage, some meals and points of interest. My daughter and I had a wonderful time. Do go to Hilo Hatties and Buba Gumps. One word of warning, you will leave your heart there.

November 3, 2010
0

found this helpful
I would like to recommend www.tripadvisor.com, It has tons of info for you, and is a valuable homework tool. Experienced travelers can help to fill you in.
You can ask questions, read forums, book and everything. I love it! And it is free and won't spam up your mailbox!

August 16, 2017
0

found this helpful
Definitely go with well know agencies like Travelocity and be sure you know about any hidden fees. Hawaii is beautiful, but extremely expensive. Hope your trip is fantastic!
Answer

this Question
Oahu is one of the islands in the Hawaiian Island chain. It is the home of the state capital, Honolulu. Favorite tourist attractions include Waikiki beach, the Pearl Harbor memorial, the Polynesian Cultural Center, Diamond Head, and more. This page contains travel photos taken on this beautiful island.