EllenB
Gold Post Medal for All Time! 858 Posts
Most of us are familiar with wild roses. They are commonly seen (and smelled) along country roads and meadows, usually in areas where water is nearby. With the on set of fall, they have dropped their petals and are left with thorny bushes covered in plump round fruits. Commonly referred to as rose hips, these apple-shaped pods not only contain the flower's seeds, they are packed full of disease fighting bioflavinoids and contain high amounts of vitamin C. It's no wonder they have been highly prized for their beauty, culinary versatility and medicinal properties for centuries.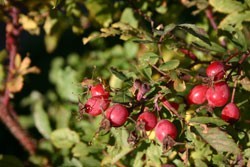 A Little History
From Egypt to Siberia to Canada and the Americas, rose hips are commonly found throughout the Northern hemisphere. Long an important food source for the indigenous peoples in regions where they grow; rose hips are an exceptional source of Vitamin C (containing even more than oranges). This fact made them especially popular to grow during World War II when citrus produce was difficult to come by and governments were encouraging victory gardens as part of the war effort. At that time, it was commonplace to see rose hips served up as a vegetable side dish at dinner, or used in jams, syrups, jellies and marmalades. Rose hips also contain healthy amounts of antioxidants, vitamins A, B complex, E, K and heart healthy pectin.
Rose Hips are "Hip" Once Again
With the an increase in consumer awareness toward the benefits of a healthy diet, today rose hips are readily available at most health food store or food co-ops. Rose hips have a tangy, sweet flavor and can be used fresh, dried or preserved. They are sought after for use as herbal supplements, in skin care products and to make herbal teas. At prices ranging from $7.00 (whole) to $12.00 or more a pound (cut and deseeded), it's economical (and easy) to grow your own.
Choosing the Best Variety
The number, size and sweetness of rose hips varies greatly depending on the variety of roses grown. As with most flowers, the more blooms produced, the more hips in the fall. The old-fashioned shrub roses (like rugosas) tend to produce the most hips due to their long bloom time-May until the first frost. When selecting a variety of rose to produce rose hips, keep in mind that the largest-sized rose hips are easiest to process for use and usually contain the highest content of vitamin C. Among some of the "hippest" shrub-rose varieties are the Dog Rose (Rosa canina) and the Rugosa Rose (Rosa rugosa).
Shrub roses need at least 6 hours of sunshine per day and are generally more winter hardy and drought tolerant than modern rose cultivars.
Hints for Using Rose Hips
From teas to preserves, a quick search of the Internet will produce a bounty of interesting recipes for rose hips. Before you harvest them for use, follow these simple guidelines:
Use only rose hips that come from plants free of pesticides and herbicides.
Stop deadheading blossoms in mid to late August so hips can form.
Wait until after the first frost before harvesting. The color of the hips will be bright and their texture softer. This will also concentrate the sugars for a sweeter taste.
To prepare for recipes, trim off stem and blossom ends and cut hips lengthwise to remove the seeds and small hairs. Wash thoroughly and spread them in a single layer on a tray or drying rack. Dry them in a food dehydrator, in an oven on the lowest setting or in a dark, well-ventilated place.
Rose hips used for decorative crafts can be dried whole and kept in a cool, dark place.
Leave some hips on the bush for the birds. They provide a great source of winter food and protective cover. For a festive garland birds will love, string a garland with rose hips, popcorn, nuts and dried fruits to hang on a tree near your home.