DianaHM
Bronze Post Medal for 2021. 31 Posts
March 19, 2021
1

found this helpful
Best Answer
This is a young Oriental cockroach.
njaes.rutgers.edu/.../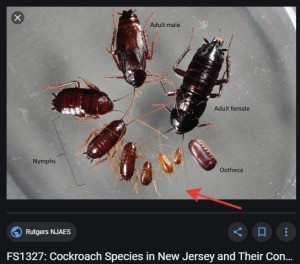 November 17, 2021
0

found this helpful
It actually looks like a very young German cockroach, not an oriental.

gggd
Bronze Feedback Medal for 2021. 15 Feedbacks
March 19, 2021
1

found this helpful
Best Answer
This bug looks like the very young nymph stage of a cockroach. Tell the landlord immediately so the problem can be tackled ASAP. If there are young roaches present, then there are more roaches somewhere.
As a renter, it is up to management to make sure units are bug-free. Good luck.

Pandy
Bronze Answer Medal for 2021. 27 Answers
April 6, 2021
0

found this helpful
Best Answer
I stayed in a motel at the beach a few months ago and these bugs were every where. At night, when I went to turn the bathroom light on there were cockroaches in many places and they scurried away. I found out that day what a baby cockroach looked like. That's what is in your photograph. In the motel, the reason for the infestation was a really bad leak in the bathroom. So, it is possible there's also a leak some where in your apartment.

Judy
Gold Post Medal for All Time! 677 Posts
March 19, 2021
0

found this helpful
The antennae look too long to be bedbugs. If they were, you would have bites and bloodstains on your sheets.
However, I would trap a few and show the landlord. You should not have any bugs.

Ana
Bronze Post Medal for All Time! 140 Posts
March 19, 2021
0

found this helpful
The good news is that they are not Bed Bugs, they may be - Entomobrya Atrocincta- is in the Silverfish insect family . They love hanging around sinks , drains, base boards. - en.wikipedia.org/.../entomobryidae

March 20, 2021
0

found this helpful
Definitely in the cockroach family so the species is immaterial as they all do about the same kind of damage - and they are nasty!
How did they get inside your 'new' apartment?
Well - it's possible the previous dwellers left them for you and the cleaning was not through enough to kill the source (they are very good at hiding) OR you could have brought them with you - maybe in boxes or paper bags, groceries, plants (they LOVE artificial/faux plants).
The main thing right now is too remove them before they have time to find new hiding places in your boxes, closets, pantries, etc.
Contact your landlord so they can do their job of exterminating your unit before you get settled in. You may have to leave your apartment for several hours if they do a thorough job.
You can also do some DIY things if you ever see signs again or if you just want to be sure they never return.
Check out some of these suggestions (ignore the ads) and decide what works best for you:
www.goodhousekeeping.com/.../
www.antipesto.com/.../tired-sharing-your-home-roaches-10...

March 21, 2021
0

found this helpful
As a medic, teacher and foster parent, I have had many many classes on bed bugs. This is NOT a bed bug.

June 7, 2021
0

found this helpful
That is actually a small German cockroach