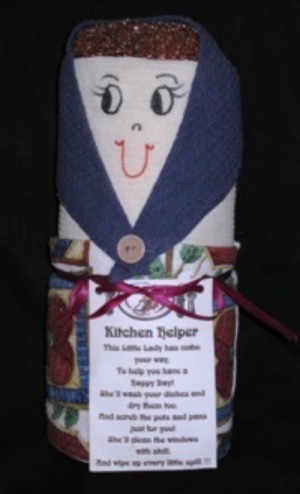 You'll be a very welcomed guest if you take this little hostess gift when you're invited over to a friend's house for dinner. Unlike some useless little gadgets, this simple craft not only shows that you cared enough to take the time to make the gift, but it's also something every kitchen needs.
For you fellow frugalists, it's also a very inexpensive gift, appropriate for many gift-giving occasions.
Materials
a roll of paper towels
one dish towel (hand towel size)
one dish cloth (washcloth size)
piece of ribbon approx. 2/3 yard long
one copper coil pot scrubber
hot glue gun or long straight pins
Magic markers
powder blush
medium size button or decorative costume jewelry brooch
piece of paper to write the little poem on (use the computer if you have one)
Instructions
Fold the dishcloth lengthwise into thirds. Wrap around the roll of paper towels to form the skirt.
Secure with either hot glue or straight pins. (If you intend for it to be used, the pins make it much easier to take it apart.) (This is the skirt.)
Attach the pot scrubber onto the top of the paper towel roll toward the front. (This is the "hair.")
Fold the smaller cloth into a triangle and put it across the top of the pot scrubber and the paper towel roll to form a kerchief. Fasten it at the front with glue or a pin.
Attach a button or a brooch at the front where the points of the kerchief meet.
With a black Magic marker, draw on the eyes and lashes. Use the red marker to draw on the mouth. Apply a little powder blush with a brush to give Hannah her rosy cheeks.
Type or print the cute little poem that goes with the character and attach it to the ribbon which serves as a sash on the "skirt.".
This little lady has come your way
To help you have a better day
She'll wash your dishes and dry them too
And scrub the pots and pans just for you
She'll clean your windows with skills
And wipe up every little spill.
Simple, inexpensive, useful, and thoughtful, what a great gift idea!
By Sandy Bass from Elon, NC
Comments
August 26, 2009
0

found this helpful
What a clever and cute idea!
August 31, 2009
0

found this helpful
This would be adorable as a Christmas gift! Even older ladies who would love a kitchen angel! Thanks for sharing!
September 2, 2009
0

found this helpful
What a great idea. Very nice for newlyweds or a housewarming gift. Or just for fun. =)
September 6, 2009
0

found this helpful
I've seen that done with baby diapers, wash cloths, baby pins etc. assembled in a cake for a shower. yours is very cute!