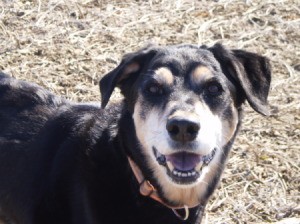 I have a 16 yr old dog that has always had anxiety issues. Lately it is out of control. I have a huge lawn for him to run and play in. I have always been able to just let him out without supervision. (He is way to scared to go anywhere.) He just runs around the house which has always been good exercise for him. He actually has a path.
Lately he will not go outside, I have to drag him out with a leash. When outside he runs around the house to all of the doors ripping the molding off, chewing the door knobs, and jumping up and scratching the doors destroying them. He has torn all of the rubber molding off, so there are holes in the bottom of the doors.
I am so afraid he is going to break the sliding glass window. I have tried blocking the doors with things, but he just destroys the stuff. His ultimate goal is to get back in the house. Even when I am outside with him he just walks at my feet tripping me.
While inside he just paces back and forth causing him to breathe heavily so he throws up all over. He has started peeing and pooping in the house because he hates going out. At night he sleeps on the floor in my room (on his $150 memory foam bed). All night he keeps me up running around the room panting and acting as if something is spooking him. If I lock him out of the room he destroys the door to get back in.
I have had him since a puppy. He has never been abused. I do have a crate that I keep him in when I leave. Lately it is the only place he can be because he is making me mental. I don't want to constantly leave him in there what should I do?
By CB
Answers
September 3, 2012
0

found this helpful
Best Answer
Take him to the vet immediately. He's telling you something is very wrong.
September 3, 2012
1

found this helpful
Best Answer
It may be a kind of dementia since your doggie is so old. I recently took our 14-year-old Lab mix to the vet with the same issues, and the vet gave us some Valium for Max when he demonstrates his anxiety. The vet said that the issues could well be due to Max's age and mental status.
September 3, 2012
0

found this helpful
Best Answer
I have a Harrier dog that is totally spooked by most everything. A good friend suggested a Thunder coat. It was like magic, he has totally calmed down. The Thunder coat is totally refundable. Good luck.
Ricky K.
September 3, 2012
1

found this helpful
He may be in pain. Please have the vet check him. For instance, if he has glaucoma he has terrible pressure in his head like a migraine. There is medicine to relieve the pressure. If he has pain from arthritus it is the same as what we get. Could be he is fearful because of pain somewhere. He is trying to tell you. He is not being a bad boy, just maybe hurting.
Read More Answers