September 10, 2010
1

found this helpful
Best Answer
Here's what I did. You could use any type ball!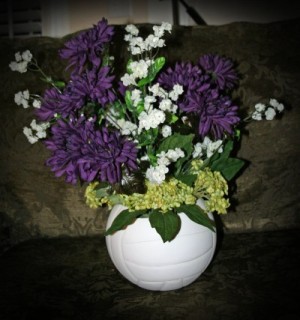 January 28, 2005
0

found this helpful
You could make the flowers solid color and/or a combination of colors! You can also put plain sand into any container, (to use a basket - line with tissue paper first, then add sand) then put a tall candle (tapered or fat) into it, then push in your paper flowers but not to close to the flame! To make a short candle tall-push a flat bottomed drinking glass bottom side up into the sand and set your candle on top of it to add height.
The short, fat candles are always cheaper, but are seldom tall enough for a centerpiece. You could also go to your local dollar store and buy football "party favors" -little helmets, little footballs- then attach these onto skewers to put in your tissue paper flower arrangements. GOOD LUCK!!
By Anna From Phila (Guest Post)
February 18, 2005
0

found this helpful
Take Black and white pictures of the football year and put them in Red picture frames. If they are not black and white photos, you can go to any photo shop and they can change them over. I know that Wal-Mart and CVS have the machine. Also, take the seniors jersey and use them. Take Boxes to put inside the jersey or balloons. If you are really good, build a tee from wood.
By Dona Raines (Guest Post)
November 9, 2007
0

found this helpful
Take a salt box, place in the center of 2-3 pieces of different colored tissue paper - we use maroon and white for the school colors - bring the tissue paper up around the salt box - and gathering at the top of the salt box - take some curling ribbon - again a couple of colors and tie around the top of the gathering of the tissue paper at the top of the salt box. You can tie a balloon on this or simply put on the table and sprinkle some confetti around it on the table.
Very inexpensive and it does look great. We store these in a rubbermaide tote and use them year after year. Go to Big Lots or some equivalent store for the salt boxes. Order the tissue paper and curling ribbon from a gift wrap online store if you can get it cheaper. Incidentally - if you do use balloons with the boxes, don't use balloons on all the centerpieces. The kids tend to not be able to see that well amongst all the balloons!
I got this idea from a local florist - good luck to you!
By Karen (Guest Post)
January 16, 2008
0

found this helpful
Could someone give me ideas as to centerpieces for a Middle School all sports banquet, both 7&8th grade girls and boys, volleyball, football, basketball.
By Dori Mozek (Guest Post)
October 21, 2008
0

found this helpful
Our youth football team is having its banquet and along the same lines as using boxes of salt, we are using large or extra large rolls of toilet paper wrapped in metallic tissue paper in the teams colors and tying balloons to them! Everyone can take the tp home afterwards!
By Bunny (Guest Post)
October 24, 2008
0

found this helpful
We've always used the boys' actual football helmets. We request them from the coach, polish them up, tie some balloons to the face mask, and place them on the tables, and sprinkle some confetti around them.
Looks great!