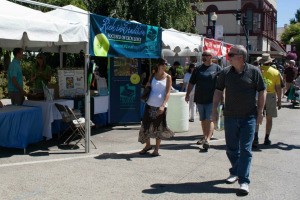 During a trip to the Saturday Market in Salem OR, I helped a little boy learn that not everything is high tech.
Outside the porta-potties are hand washing stations. You pump the water through the faucet with your foot on a pedal. A boy of about 8 walked up, waved his hands under the faucet and said "this thing isn't working"!
I subdued my laughter until I showed him how it worked, then had to marvel at what our kids today are used to. Toilets that flush themselves, faucets that run when needed only, doors that open when we don't even touch them, and so on. They will never hear a busy signal, dial tone, or operator.
Watches will someday be obsolete as their cells take care of the time and books and movies and music, and you never have to eject or rewind anything! I remember when just having a transistor radio with earphones was the coolest thing ever. There was no such thing as IM, Skype, Tweet, or Facebook.
I have lived to see some amazing thing and I hope to be around to see even more. But I also hope I will never be too old to laugh at a high tech kid in a low tech place!