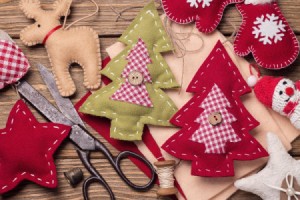 Get ready to share your creativity this holiday season. We are excited to announce our holiday bonus program for Christmas craft submissions. We are looking for instructions for making wreaths, ornaments, centerpieces, stockings, and decorations of all types. We will also accept craft ideas for one of the many different winter holidays celebrated around this time; like Chanukkah, Solstice or New Year's Eve.
We will pay an additional $5 for published holiday craft projects that include 6 or more photos of multiple steps that we have chosen to publish. That is a $15 bonus, with the potential of another $20 if you have enough quality images for a slideshow. Entries must be received by December 15, 2017, to receive the additional $5.
These crafts will be included in the regular craft project contest. If you have a simple holiday craft, feel free to send it in for the regular $5. Or, if you don't have step by step instructions, send it in as a craft tip.
A few tips for taking the best craft pictures for ThriftyFun.

Photos should high resolution and in focus. Be sure to use proper lighting so details can be clearly seen.

Landscape (horizontal) photos display best on ThriftyFun. Do not add text, as it may be automatically cut off by our different formats and look odd.

Avoid a lot of clutter or unrelated items. It is best to keep your working area relatively clear.

It is often helpful to have another person take photos of complicated steps. A tripod can also help.

Take only one photo of the supplies or material. Multiple photos or unnecessary step photos may be discarded prior to publication, reducing your photo count.

A final photo of the finished project should be taken with a clean background. This can be a separate photo than your final step if you wish.
Keep in mind that we have been publishing crafts for over 15 years, so be sure to check the site to make sure a similar craft hasn't been published in the last year or so. Have fun, we can't wait to see what you are making this year!