I entered a few things in the State Fair this year, and won a blue ribbon for my crocheted teddy and one poem, with a red ribbon for my other poem. I thought you all might like to share in my bragging rights!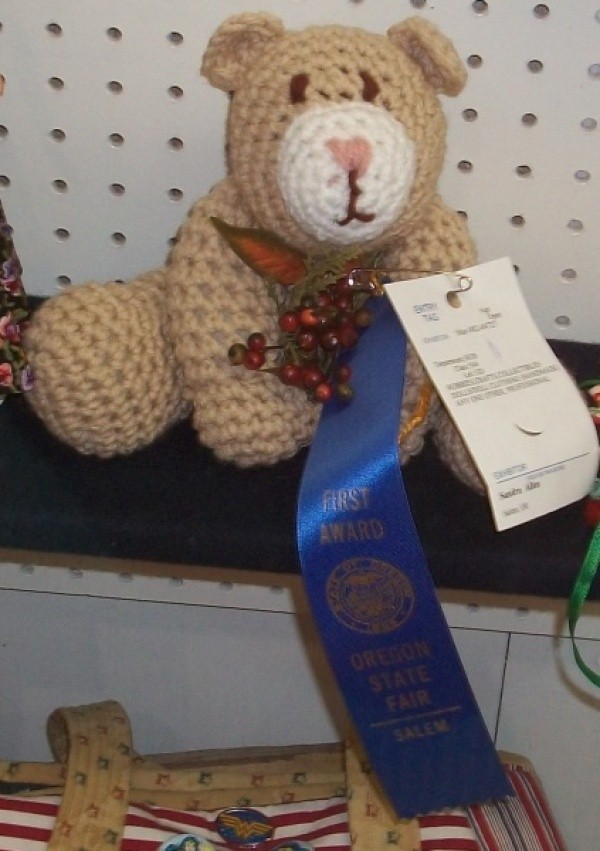 The poems are "The Day After Christmas" which was posted very late last year. And a new one I wrote just before the fair, reflecting on a bad time in my life. I hope you enjoy the shots of all three. I will post the poem here since you can't read the small shots in the photos.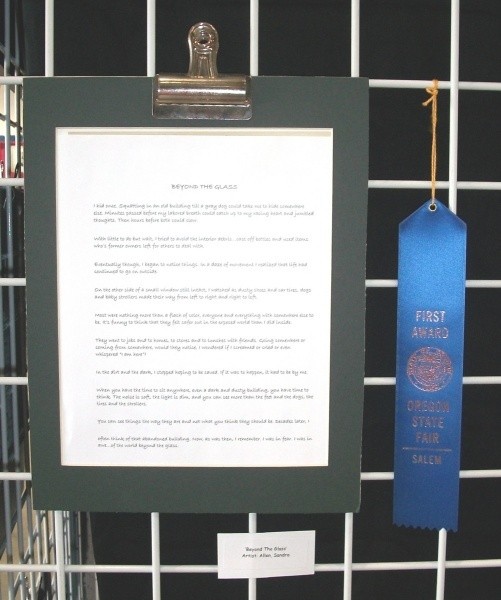 I hid once. Squatting in an old building till a gray dog could take me to hide somewhere else.

Minutes passed before my labored breath could catch up to my racing heart and jumbled thoughts. Then hours before both could slow.

With little to do but wait, I tried to avoid the interior debris; cast off bottles and used items who's former owners left for others to deal with.

Eventually though, I began to notice things. In a daze of movement I realized that life had continued to go on outside.

On the other side of a small window still intact, I watched as dusty shoes and car tires, dogs and baby strollers made their way from left to right and right to left.

Most were nothing more than a flash of color, everyone and everything with somewhere else to be. It's funny to think that they felt safer out in the exposed world than I did inside.

They went to jobs and to homes, to stores and to lunches with friends. Going somewhere or coming from somewhere, would they notice, I wondered if I screamed or cried or even whispered "I am here?"

In the dirt and the dark, I stopped hoping to be saved. If it was to happen, it had to be by me.

When you have the time to sit anywhere, even a dark and dusty building, you have time to think. The noise is soft, the light is dim, and you can see more than the feet and the dogs, the tires and the strollers.

You can see things the way they are and not what you think they should be. Decades later, I often think of that abandoned building. Now, as was then, I remember.

I was in fear. I was in awe . . . of the world beyond the glass.