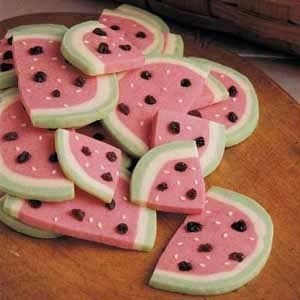 Note:
You really have to allow yourself some space and time to make these. They are time consuming, but I won First Prize in 1998 at the Oregon State Fair for them, so for me, they were worth it.
Cream 3/4 cup butter, 3/4 cup sugar, 1 egg, 1/2 tsp. almond extract. Mix, then add 2 1/4 cups flour, 1/4 tsp. salt, 1/4 tsp. baking powder. Mix and knead into dough.
Remove half of the dough, and tint with red food coloring, to match a good ripe watermelon. Roll into a 3 1/2 inch long tube, wrap in plastic or waxed paper and chill 2 hours.
Note: If you set this "log" onto a nice flat surface and let it "settle", the bottom will be flatter.
Divide the other 1/2 into two halves, leaving one white and the other tinted green, like the rind. Wrap as above and chill these 1 hour.
Once chilled, take out red dough, unwrap and set on flat surface. Unwrap white dough, roll on floured board to 8 1/2 x 3 1/2 inch rectangle. Beat 1 egg white and brush 1/2 of it over red dough log to help white dough adhere. Lift and lay white dough sheet onto the red log.
Take out green dough, and roll to a 10 x 3 1/2 inch rectangle. Coat white dough with other half of beaten egg white and lay green dough on top of that.
Cover and chill 8 hours. (This is a good thing to make just before bed so you can bake in the morning).
Unwrap, cut into 1/8 inch slices, placing them 1 inch apart on ungreased cookie sheet.
For white seeds, use sesame seeds and press them in before baking.
Bake at 375 degrees F for 6-8 minutes. Let cool. Use black frosting to make the "black seeds".
Source: I found this in a magazine, but it's long since gone. You can google this recipe, but they don't have the nice white layer. I also notice that a lot of people just make the sugar cookies with green frosting.
Well, not in this kitchen!
By Sandra from Salem, OR