How to Create a Bejeweled Mirror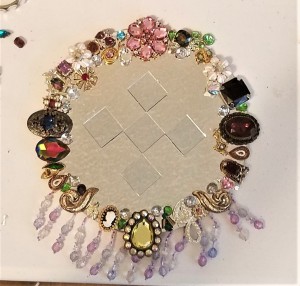 I just put this in the fair, so keep your fingers crossed!

Total Time: With glue curing time, 36 hours
Yield: 1
Source: I have seen countless versions but this one if all mine.
Supplies:
1 mirror of your choice and size ($.49)
1 oz E-6000 or your choice of glue
multiple pieces of broken or miss matched jewelry
6 in ribbon scraps ($010)
3 jewelers tools ($0.00)
3 in duct tape
scissors ($0.00)
2 Bags Dollar Tree sand, or something to weigh the gems down
1 Strip ribbon beads ($.25-.100)
square mirrors about 1" in size ($.50)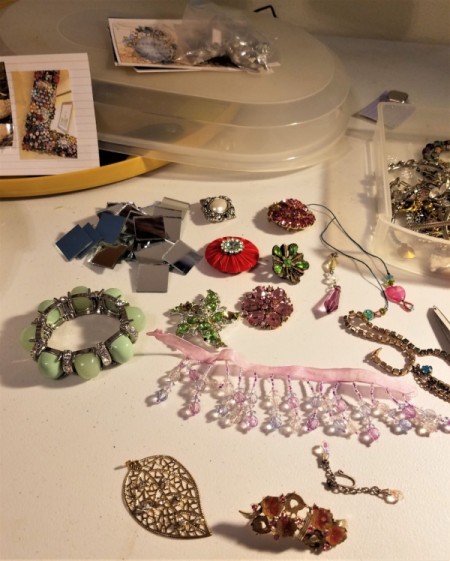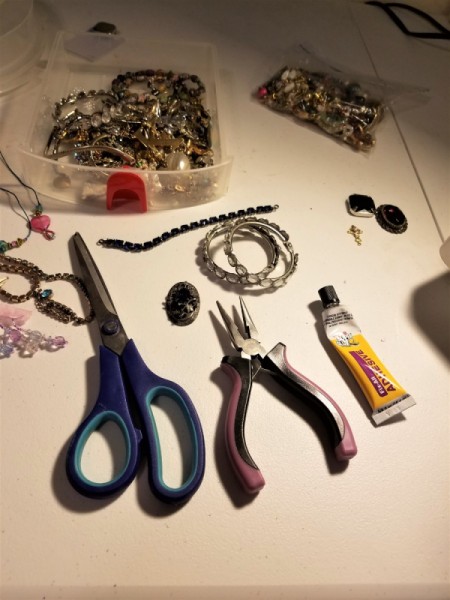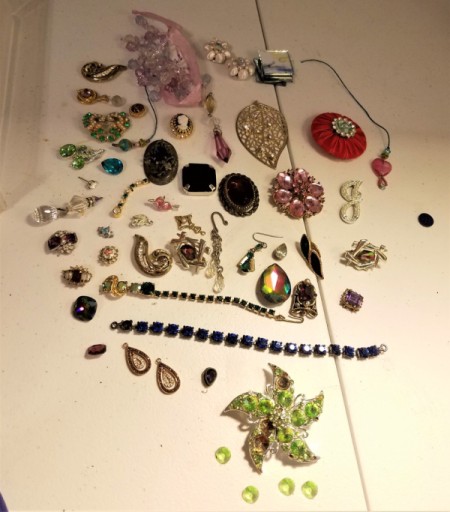 Steps:
I didn't do this so it was harder than I expected. But turn the mirror over and put the hanging ribbon on first. I used hot glue and duct tape. I also provided the fair with an easel should the ribbon not hold. I will put the hanger on first from now on.
The first thing I did was to sort out the jewelry and make sure any gems or finding I needed off were "deconstructed". Then you can choose the ones you want to use.

I then glued the "ribbon fringe" on the back. Because you can't "curve" a straight piece of ribbon, I made little notches in it so it would glue in a round shape.

Once the largest pieces were where I wanted them, I glued them on. Then I sat a little drawer on and weighted it down with some Dollar Tree sand. You don't want to lay anything on the gems that the glue might stick to. That is why I used the little flat drawer.

12 hours later, I set the next bit of gems in. I found that the first round was the largest, then the second needed to be the medium sized one. I had some that were matching sets, so I placed those across from each other, equally distancing them from their "twin". This only shows on the last round.

With the next 12 hours done, I set in the last smaller pieces. Now I would love to say that all my gems were flat but they sure weren't. I got away with having some beveled gems because they were small enough to fit in the "crevices" of the medium gems. If I were doing this for a client, I would be a lot more picky. But this was my first one and the fair is a great way to "test" things you submit.

I put on some square pieces of mirror for a final touch. Then, all the glue strings and fingerprints need to be cleaned off. You are now ready to "N-JOY" your new mirror!!
Comments
Read More

Comments
Published by ThriftyFun.
© 1997-2022 by Cumuli, Inc. All Rights Reserved.
https://www.thriftyfun.com/How-to-Create-a-Bejeweled-Mirror.html