I want to use a mirror as a note board, does anybody have any ideas what I could use to write/paint on a mirror that easily washes off? Dry erase markers are not dark enough. I tried one of those markers for windows like kids use to decorate cars for school spirit, but those seem kinda pricey. I am thinking there has got to be something I can use that is relatively cheap.

Lynn from KY
Answers
Read More Answers
I would like some help decorating an old cloudy mirror. I still want to see myself in it. I was thinking about a paint design. Any ideas?

granniegityergun from Rochester, NY
Answers
January 9, 2008
0

found this helpful
i buy old windows and paint desgins on them for differant holidays, these were done for chirtmas that i sold at craft shows. but the mirror to the right was one my sister had got in a yard sale very old antique mirror dated 1928 and it was really clouded so she had me paint a snowman theme on it and i sealed it with 3 clear coats of sealer. get your theme ideas by looking at greeting cards for any season then i draw on the design freehand with a permanent marker then paint it in.with the fog on the edge showing it actually matched the winter cold theme very well.
these can sit in front of your fireplace or near an entry way to greet your guest at the holidays. and the snowman does not shout just christmas but serves through all the cold winter months as decoration theme.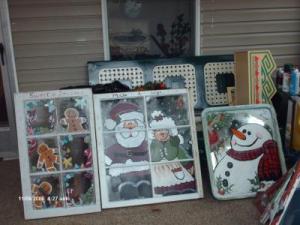 January 9, 2008
0

found this helpful
Could you glue sea shells or artificial flowers around the edge? How about hearts? They're easy to find this time of the year.
January 9, 2008
0

found this helpful
You could get some acid etch and get a frosted design.
January 9, 2008
0

found this helpful
Etching isn't hard! ... Just take some contact paper, Dray the design on the contact paper you'd like, then punch or cut out designs (with paper punch or exacto knife)... Burnish the contact paper down with your fingernails... This design should mostlly be done around the edges of the mirror. ...Then buy "Etching Cream" at your local Craft or Art Store.... and follow the directions!
---> Don't let the word "Acid" scare you... Just follow the directions on the Etching Cream & you'll have a wonderful, classy mirror!
* One more idea: Take the backing off the mirror, then draw a vine with a black "sharpie" pen.. If you can see it from the front, GREAT! ... If not, then scratch the silver finish off the back (where you want your vine) & the front will look very cool!
* There's nothing classier or easier than a leaf vine... Easy to draw, Easy to paint, easy to etch or scratch. Just draw a squiggly line with simple leaves growing off of it!
Read More Answers
August 30, 2013
0

found this helpful
I have a mountain condo where I recently decorated the edge if a large mirror with twigs and sticks gathered from the area. It fits perfectly in the dining with its rustic decor. The problem is they keep falling off. I've used silicone and a glue gun. Some stay on, but every few weeks I lose a few and have to reach for the glue gun again. Any ideas?
By J E L
Read More Answers
September 10, 2006
0

found this helpful
How can I cover a carved mirror frame with fabric?

Jackie from Ypsilanti, MI
Answers
September 12, 2006
0

found this helpful
I think the only way to cover a carved frame with fabric would be to use a decopage' medium and really get your fingers into it in order to bring out all the design of the frame. You could use paper as well tearing it into workable size pieces. You won't get so many folds and wrinkles with paper. You can use tissue paper or even wrapping paper. Directions should be on the decopage medium jar. Judy
Answer

this Question

...