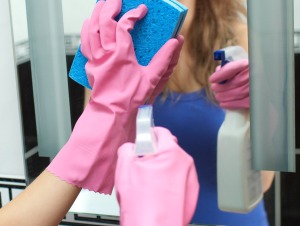 Cloudy mirrors can be the result of a residue build up on the face of the mirror or damage to the backing. If cleaning methods don't fix your cloudy mirror, the backing is probably damaged and the mirror will need to be replaced.
To clean your cloudy mirror try either foam shaving cream or straight white vinegar in a spray bottle.
Read on for more advice about how to clean cloudy mirrors.
August 1, 2004
0

found this helpful
I have moved into a newly built home and have 3 bathrooms with large mirrors. I have cleaned them with everything I know to remove the cloudy, haze that is on them. I have used window cleaner, vinegar, alcohol and even tried Greased Lightning. Nothing works. Any suggestions?

Kathy from Memphis
Answers
By Goldsmith (Guest Post)
July 11, 2005
1

found this helpful
Best Answer
I too have (had) a problem with cloudy mirrors and tried everything. I am now using a slightly dampened (with water) microcloth. My mirrors are now streak-free and the clouding has gone.
December 31, 2009
1

found this helpful
Best Answer
For a haze on mirrors or glass that nothing works on or if you know that the surface has been chemically "etched" by using the wrong cleaner use jeweler's rouge. Call a local jewelry store to see if they have some in stock (about $4-5 a stick).
This is a hard compound that you rub on the surface first then buff with a dry cloth. It can be labor-intensive and time consuming, but it has worked when nothing else has. The sticks come color-tinted, but I don't believe that applies for this application- I have used black and white with success.
May 5, 2013
1

found this helpful
Best Answer
I have a very old dressing vanity with a triple mirror that had been left out on a covered porch for years. The mirror was very cloudy and it had water streaks running down it. I tried everything! Then I heard about shaving cream! It worked like MAGIC! Took a lot of hard rubbing and wiping and you might have to do it a couple of times. I was amazed! :)
April 28, 2014
0

found this helpful
Best Answer
I used Ceramabryte which is a glass-ceramic cooktop cleaner on my cloudy mirrors and it worked like magic. I'm guessing the cloudiness was from the painter using paint thinner to clean paint splatters off but he only succeeded in spreading it thinly all over the wall of mirrors.
I've lived with this for 3 years since we moved in. I tried so many chemicals. Thanks for the jeweler's rouge tip. This Ceramabryte probably works similarly to the jeweler's rouge, as it has a very fine abrasive made for glass.
March 10, 2017
0

found this helpful
Best Answer
Magic Eraser and Elbow Grease. I think my antique mirror might have had smoke residue. Glass plus works great for new stuff but this mirrow would just cloud up the minute any product dried. Magic Eraser plus A LOT of elbow grease is the only thing that has worked. BTW: You must push hard/fast enough that the magic eraser "squeaks" or it isn't going to work.
Answer

this Question

...
I have two inexpensive mirrors in my home that are driving me nuts. They have "stains" on them that I can only describe as like water stains and very cloudy. They look dirty all the time. Any idea on what I can do.
Thanks very much.
Bernie
Answers
March 27, 2005
0

found this helpful
Best Answer
I would suggest that you go to a hardware store and get some Mirror surface removal and take your mirrors and take the paint off the back of them and buy some Mirror refinisher paint...and repaint them.. of course this might be fairly expensive if these are cheap mirrors...then just go get new mirrors...there are mirrors in all prices...
Hope this helps some
By michele (Guest Post)
March 28, 2005
0

found this helpful
Best Answer
Try this before replacing. I don't know if it would work for your type of mirrors/problem, but it couldn't hurt. Take a small amount of shaving cream and clean the mirror. Don't use anything else with it. Just put a lil dab on a soft cloth and rub in until it is clean.
By Shirley Savidge (Guest Post)
September 17, 2008
0

found this helpful
Best Answer
I too have a problem with cloudy mirrors and light fixtures - Several weeks ago a friend in my neighborhood gave me a can of Sprayway Glass Cleaner - be sure to use cotton fabric to clean mirrors with and I heard you should not spray the mirror but spray the fabric - do not use fabric softener in your "rags" - also soft paper towels like Viva and Bounty have an ingredient in their manufacturing that adds softness - hope it works for you. Someone once said the cheaper paper towels are best for mirrors and windows - of course newspaper works too but is dirty unless you use gloves. Check on line for availablity for Sprayaway - it can be purchased at Target, hardware stores and Linens & Things stores it's a big 19 oz can - My neighbor got hers ar Sam's but had to buy a case of it so she gave me a can.
Answer

this Question

...
February 10, 2012
0

found this helpful
I have a mirror that is about 70 years old, but in the last 6 or 7 years it has been down and sitting. I got it hung today and it's a little cloudy. I would like to know how I should clean it so that it will get the shine back. Whatever I do I want to start with the first wash. This mirror means a lot to me. My grandfather purchased it when my aunt was 8 years old, and she is now 70 years old. So, I want to start right so it will end up right.
Thank you.
By D. C.
Answers
February 10, 2012
0

found this helpful
Best Answer
I don't believe it is the glass that is cloudy but the backing that gives a piece of glass it reflectivity. It other words the mirror may need to be re-silvered or you can replace the mirror at less cost than having it re-silvered.
Answer

this Question

...