Cleaning Mirrors
Solutions
Share on ThriftyFunThis page contains the following solutions. Have something to add? Please share your solution!
I always found that when I'd clean my mirrors, every product I'd use would streak. Well, I found something that doesn't and it's cheap. Water! I just wet my cloth, wipe down the mirror and use either a torn up sheet or paper towel to dry it. I use water to clean my windows, too. I told a friend of mine about this and she said she couldn't believe how good it worked!
Read More Comments
If you have a mirrored cabinet (such as a medicine cabinet) that requires you to touch the mirror to open it, thus leaving fingerprints, I have found that placing small vinyl clings/decals at the spot you touch eliminates the fingerprints. I like to change the vinyl clings to correspond with the seasons or holidays. You can involve your children in this, too!
By songbird100
Read More Comments
There are many products available that claim to do the best job on your mirrors. Even with these products it can be tough to avoid getting streaks and spots. It is important to protect the surface and backing of your mirrors from damage.
A simple chemical-free method is to use water and a lint-free cloth. Thoroughly wet your cloth with water and then wring it out. Wipe the surface of the mirror and immediately dry it with a dry lint-free cloth.
A solution of vinegar and water can also do the trick. Combine 1 cup of white vinegar to 1 quart of water. Get a lint-free cloth, wet it with your solution, and wring it out. Wipe down your mirror and immediately dry it with a dry lint-free cloth. If you can find a newspaper that doesn't use soy-based ink, it can be used in place of the cloth.
Regardless of whether you use these methods or a store bought cleaner, you should always apply the cleaner to a cloth instead of directly to the mirror. This prevents excess cleaner from running down the edges of your mirror, which can cause damage to the backing (also known as "black edge").
Mirrors get so dirty fast especially with fingerprints or if you have kids who love using crayons and other stuff on them. What I find that works wonders is baby wipes...
Read More...
Questions
Ask a QuestionHere are the questions asked by community members. Read on to see the answers provided by the ThriftyFun community or ask a new question.
What do I mix with vinegar to clean a mirror?
By Ken P
Answers
October 8, 2012
1

found this helpful
Water, I use a 1/4 cup of vinegar to the rest of your favorite spray bottle of water. I use this solution for my entire house once I have it mixed. I promise you! Stove tops, Glass top tables, counter tops, mirrors!
Also is safe to use on Insect bites, and all scrapes! Just spray on area and wipe with a tissue or spray a cotton ball and apply to surface area (this is a very natural antiseptic) -Pediatrician approved! Oops! Just mention vinegar and I've got plenty of tips.. :}
October 10, 2012
1

found this helpful
I use a mix of equal parts of water and white vinegar. I put it in a spray bottle from the dollar store. I have used it for years to clean mirrors and windows.
February 27, 2015
0

found this helpful
Be careful with the vinegar. It can cause those black etch marks in mirrors.
Read More Answers
I recently purchased an old Vanity Mirror. It is absolutely beautiful, but we have tried to clean it endlessly, but can't seem to get rid of some of the "dark-color" streaks. Any suggestions would be most-appreciated.
Thank You!
Fran from Farmingdale, New York
Answers
July 15, 2006
0

found this helpful
I know it's for Stains on Clothes, but I have found it cleans anything. Put a little on soft rag with lightly rub & try a small place.
Try SHOUT!
Good Luck.
July 17, 2006
0

found this helpful
The dark spots may be where the silver agent has come off/ take it to a mirror refinisher to get an estimate
By Bill (Guest Post)
July 17, 2006
0

found this helpful
The dark color streaks are caused by the silver on the back of your mirror gone bad, either from moisture getting to the back of the mirror or from age or from direct sun light over a long period of time. If you have the mirror re-silvered the bright new silver will make all the fine surface scratches stand out and you will not be happy with the re-silvering job. I would buy a new mirror.
July 17, 2006
0

found this helpful
My father used to have an antique shop and we also did furniture refinishing. It sounds like the mirror needs to be resilvered. If it is in a frame and that is the part you want to save, you can have the mirror part replaced.
If the mirror itself is bevelled or etched and you want to save it, then take it to a professional and they can usually restore it to its original look.
By .SPOILEDBRATTS (Guest Post)
July 18, 2006
0

found this helpful
HI USED ISOPROPYL RUBBING ALCOHOL IT WORKS GREAT FOR CLEANING ON ALL GLASSWARE GOOD LUCK.
July 18, 2006
0

found this helpful
Hi...and Thank You all for your suggestions and advice. Maybe it is indeed the silver-gone-bad theory. Might be pretty expensive to refinish it. It's a very large, heavy round mirror from the 1930's. Maybe I'll just get an estimate to see what it will cost to re-silver or replace. Thanks Again Everyone!...Fran
Answer

this Question

...
Tips for cleaning mirrors. Post your ideas.
Answers
May 24, 2005
0

found this helpful
If you're frustrated with getting your mirrors streak free, there's a new solution that works in a jiffy. Use the new micro-fiber cloths that are coming out with white vinegar. Don't use fabric softener with the micro-fiber cloths. Another good use is washing the car with them. You don't need soap, just water and your micro-fiber cloth. It works!
By Ardis
By Jo-Ann (Guest Post)
May 24, 2005
0

found this helpful
These cloths are great for everything
By Enter your nameSusan from Hamilton (Guest Post)
May 24, 2005
1

found this helpful
I wash the microcloths in the washer and rinse with vinegar instead of fabric softener. The micro cloths only need water to clean and rinse with.
I run a small cleaning business and I use them all the time for mirrors, taps, glass, etc. If I need to clean something really filthy, I use a regular cloth first to take the worst of the grime off.
By guest (Guest Post)
May 24, 2005
0

found this helpful
This is the old standby that I thought was well known. Just use a splash of white distilled vinegar in water, and wipe off with newspaper. This is the most effective, inexpensive and eco-friendly way to clean your mirrors. When you're finished with the newspaper, you can put it in your compost pile.
May 28, 2005
0

found this helpful
Use some shaving cream for the bathroom mirrors. Wipe off with soft cloth and your mirrors will be fog free.
September 4, 2016
0

found this helpful
Will this also work on car glass. The inside of my car window fronr and back are bad some time. Thank you.
Answer

this Question

...
Shaving cream has a second life as an easy to use cleaner for bathroom mirrors and fixtures. You do not need to buy an expensive brand. This is a page about cleaning mirrors and bathroom fixtures with shaving cream.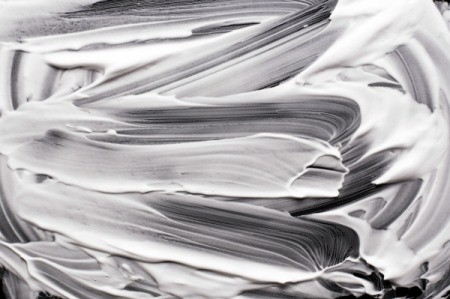 Cloudy mirrors can be the result of a residue build up on the face of the mirror or damage to the backing. To clean your cloudy mirror try either foam shaving cream or straight white vinegar in a spray bottle.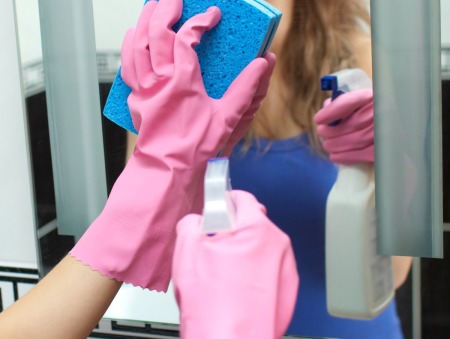 Archives
ThriftyFun is one of the longest running frugal living communities on the Internet. These are archives of older discussions.
I have tried everything to get my mirrors in all four of my bathrooms streak free and nothing seems to work. I have used all kinds of towels, cleaners, vinegar, etc. Help!

Jan from Calgary, Alberta

Answers:
Streak Free Mirrors
Have you tried the micro fiber cloths? I think they're wonderful and you only use water when you clean... no streaks! (08/10/2005)

By SL Edens
Streak Free Mirrors
I use shaving cream and newspapers (as towels) to clean my mirrors. They dont steam over either! (08/10/2005)

Streak Free Mirrors
I use a mix of 1/2 rubbing alcohol and 1/2 water for all mirrors and glass. Never streaks. I also use it to spray down the sides of my shower/tub walls after each bath and then I don't have to clean so often. Works much better than vinegar and the smell dissapates in seconds. (08/10/2005)

By snigdibbly
Streak Free Mirrors
I use a coffee filter sprayed with air freshener. You might have to rub a little harder to get the toothpaste splatters off. (08/11/2005)

Streak Free Mirrors
I would recommend buying a microfibre cloth and using it to clean your bathroom mirrors. It is the first cloth I have ever used that has not left streaks on glass. Or you could use a squeegy and clean your mirrors that way. (08/11/2005)

By Athena
Streak Free Mirrors
Wash with vinegar and water mix and dry with scrunched up news paper. No lint and no streaks. (08/11/2005)

Streak Free Mirrors
I have always used a spray bottle with a 1/2 full rubbing alcohol and 1/2 cold water. Shake well each time before spraying and then dry with black AND WHITE news print from your paper. NOT COLORED this will leave sa mess. I live in a state where a lot of people spend the winters sking and going into the mountains for recriation. The salt and grime builds up quickly on the windows of the cars and trucks. Everyone I know carries black and white news print in their truncks to clean windows. In winter they use windsheild washer liquid because the crime is so bad but I never have a streaky window or mirror using the above methoud. (08/31/2005)

By Walker
Read More Comments
What is the best remedy for obtaining streak-free mirrors?

Bryan from United Kingdom

Answers:
Streak Free Mirrors
Yes, I agree, the microfiber cloths work great to clean a mirror or any glass and it comes out with no streaks. You don't have to use any chemical, just water and you don't even have to dry. I find it's great on mirrored closet doors and the TV screen! (03/16/2007)

Streak Free Mirrors
I use water and cheapo paper towels. The expensive ones are too soft and leave all kinds of lint. (03/16/2007)

By GoodAndCheap
Streak Free Mirrors
Microfibre cloths are magic! No cleaners needed. I hate using newspaper. (03/16/2007)

Streak Free Mirrors
I wet a sponge with water, squeeze out most of the water and wash the mirror. This works for me. No mess, no streaks. Then I use the sponge to clean the sink with cleanser. (03/25/2007)

By b_bragg
Streak Free Mirrors
Vinegar also works well, if you don't mind the smell.
(03/27/2007)

Advertisement
Published by ThriftyFun.
© 1997-2020 by Cumuli, Inc. All Rights Reserved.
https://www.thriftyfun.com/tf/CleaningGroup/Bathroom/Cleaning-Mirrors.html