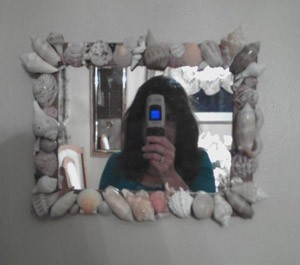 I made this beautiful bathroom mirror with shells I collected from a beach in Florida and a mirror that I picked up in a dollar store. I used a glue gun to attach the shells. It was so easy and came out so pretty.
First, I bleached the shells and let them dry in the sun. I purchased an 8x10 inch mirror at a dollar store and proceeded to hot glue the shells onto the frame. It was already brown in color and 1 in. wide. It was perfect for a base. I tried to create a pattern with the shells. As you can see, I am delighted with the finished product and it cost me the expense of the glue sticks and the $1 frame!
By Mary Lou from Flanders, NJ
Read More Comments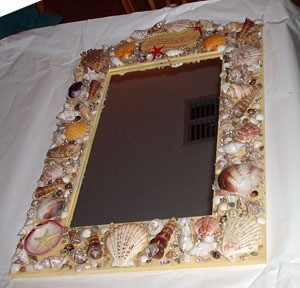 I previously replied to a request of what to do with excess shells. I explained how I decorated wooden or chipboard (MDF in Australia) mirror or picture frames with shells.

I recently made one for a friend who celebrated her 40th birthday on the weekend. She was delighted with it so I thought I'd share the picture I took and how I made it.

Firstly, clean the frame with a dry cloth to get rid of any dust and grime. I chose acrylic paints in tubes and used a bristle brush in a circular and criss-cross fashion to give it a suede look. In this particular instance I chose a bright yellow with cream overtones to make it less bright.
I painted both the front, back and the backing piece to the mirror.
While the paint was drying I went onto the computer using the Word Art tool. For the uninitiated, you go to the Insert tab, then scroll down to picture, and across to a menu, until you find Word Art. It will let you type in whatever you want and give you options for colours and the shapes of the text you want. What it does is that your text will go in waves or whatever shape you have chosen. It can give your text a nice touch.
I then cut out the text and also cut enough gold braid to go around the cut out paper. That way it defined the text and showed me where the shells should stop. I then spread PVC glue (wood glue) thickly onto the frame in sections and placed the shells (big and large) in a haphazard way. If you become too regimented about symmetry, it can look too contrived. On the top where I placed the text and trim, I found a nice small colourful starfish to cover the join in the gold trim. It covered it up nicely.
Before the glue dries, sprinkle gold and silver glitter (not too large grade) in amongst the shells and inbetween where the smaller shells are. In between the bigger shells I had placed minute tiny shells to take up the spaces in between the larger shells. I found a zip lock pack of tiny mother of pearl coloured tiny shells. Ideal for filling in spaces and giving added colour. If you have larger shells that may look a little boring, don't be discouraged. I found I needed some fan shells, but the ones I had were old and had lost their colour. I grabbed my youngest's pencil case and used some of her pencils to add a bit of colour. As you ended up spraying the whole piece anyway, the colour won't fade.
Once the glue has dried clear and hard, spray with a clear matte or shiny spray varnish (lacquer) to seal everything. The glitter will fall off if not sealed properly.
You don't have to have a message or text up top of the mirror, that's just what I chose for this particular frame. I included a scripture verse about God throwing our sins into the depths of the ocean, which I thought was really appropriate since I was using shells- and added a note to the verse which said, "And that means absolutely no fishing!"
There you have it, a really inexpensive present which ended up looking like a million dollars and great fun making it. My 14 year old daughter and I had so much fun making this present and it gave us some time together. You can even get your littlies in on the action, placing a shell here and there and it makes them feel special as well because they're able to help out.
Enjoy!
Regards
Bev in Western Australia
Read More Comments
I'm looking for instructions on how to make a seashell mirror.

Thank you,
Linda from Anna Maria, FL
Answers
By Cathy from Townsville, Australia (Guest Post)
March 28, 2007
0

found this helpful
hi Linda
The easiest way is to play with the seashells by laying them out on a pattern the same size as the mirror until you are happy with the layout. Then mix up some plaster of paris, and place a small section on the frame. Using your laid out shells, press these into the frame, section by section. Good luck!
June 1, 2007
0

found this helpful
Hello, we create seashell mirrors. I am in the process of creating a website for seashell craft projects. Our website will have kits, craft project instructions, and even made up items for sale. Our goal is to inform the world that there are more bigger and better projects for people to do with seashell then what is being done with them now. We will be showing how to make flowers, people, animals, etc....
If you want furter information on the subject please feel free to contact me.
June 25, 2017
0

found this helpful
Hello Mary. My name is dawn. I'm interested in your seashell projects website. I have thousands of seashells from collecting many years on vacation. I was going to cement them around our fire pit but later learned it was not ideal. I loved the seashell wind chime project which I'm making with my shells but I would love to hear of more. Ty so much!
Answer

this Question

...